Farms and Farm Activities
Jump to navigation
Jump to search

Allyn P. Wright, Consulting Forester - timber stand improvement, timber sales, management plans, Christmas trees, maple products, custom milling; Medusa; Tel. 518-239-6768.
Baitsholts Farm - sheep for wool and lambs for spring, beautiful hand woven goods, yarns, handcream, herbs & spices. Products available year round. Also at farmers market Main St. Rensselaerville Sat. 10am - 1pm, June-October. Produce can also be ordered on line for home delivery through Heldeberg Market. 90 County Route 353; Cheryl Baitsholts; Tel. (518)797-5201. Baitsholts Farm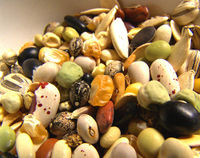 Collected Seed Farm - was established in response to the need for secure and affordable access to fresh, sustainably-grown food in our region. The support and practice of local food production brings communities closer together and helps them become more resistant to global market variables. Through our Community Supported Agriculture farm, (CSA)[1] we offer the opportunity for local households to actively participate in the their food's journey from farm to fork. Through the sales of our non-GMO, open-pollinated organic vegetable seeds, we are sowing this experience out to the greater grower community. 9 Cheese Hill Road, Preston Hollow, Town of Rensselaerville. Tel (518) 722-8239 , Collected Seed Farm
Conkling Farm - Garlic sheaves, garlic greens, gladiola, and dandelion greens. All products are pesticide and fertilizer free. July-October, variable hours. Produce can also be ordered on line for home delivery through Heldeberg Market. Roswell Eldridge, 367 Albany Hill Rd.; Tel. (518) 797-3999.
Cooksburg Lumber Co. - Sawmill specializing in the production of hardwood lumber, rough-cut softwood, sawdust, slabwood, bark mulch. Preston Hollow; Tel. 518-239-4324.
Cook's Maple Syrup - Walter Cook & Sons; Potter Hollow; Tel. 518-239-4741.
Cotter Equestrian Center - lessons, training, boarding, summer overnight camps, Preston Hollow; Tel. 518-239-4849.
The Farm at the Garden and Garden of One - The Farm specializes in sustainability, heritage produce, livestock, flower essence, aromatherapy and herbal products, and spirituality. 120 acres of forest, lake, ponds, streams, gardens, and natural beauty. Sweat lodge, Labyrinth. 60 Thunder Hill Rd., Rensselaerville; Contact Rachael: Tel. 518-797-3373 or Garden of One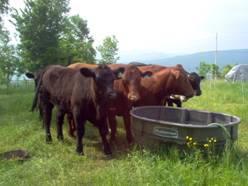 Heather Ridge Farm - Grass fed Angus, Hereford, Devon cattle; pigs are both spotted white Yorkshire-Landracer-Hampshire mix and the red Tamworth "Irish-Rover" heritage breed. Gourmet garlic and fresh culinary herbs! Apple wood to create a delicious smoke for your barbecues. John and Carol Clement are the owner/operators. 989 Broome Center Rd Preston Hollow. (Call First!) Tel. Office: 518-239-6234; Fax: 518-239-6234. Heather Ridge Farm
Heldeberg Market - makes available fresh hilltown produce from many of the hilltown farms delivered weekly to your door. Sarah Gordon. 669-3447
Hickory Hill Homestead - Goats and pottery. By appointment. 1012 County Route 403; Tel. (518) 966-4208.
Jimmy Walker's Greenhouse - Herbs, heritage vegetables, traditional flowers, ornamental grasses, landscape design; 2958 Rt. 145, Preston Hollow, NY 12469; Tel. (518)-239-4039. Jimmy Walker's Greenhouse
John B. Geurtze, Jr. - logging, sand and gravel, hogs and beef, Medusa; Tel. 518-239-6776.
Henry Organic Produce - Organic Produce; Julie Sampson, with Len and Ann Henry, 182 Tanglewood Rd., Preston Hollow, NY, 12469.
Lewis Dale Farms - Dairy and agricultural business. Medusa; Tel. 518-239-6514.
Pheasant Hollow Farm - Horses boarded, riding lessons, horses for lease, summer camps; 261 Gifford Hollow Road, (Next to Lone Goose Pond); Tel. 518-797-9274.
Preston Hollow Farmer's Market - every Friday afternoon from late June through mid October, from 4 pm through 6 pm. Featuring live music. Held at Jimmy Walker's Greenhouse, 2958 SR 145, Preston Hollow, NY.
Preston Hollow Nursery - grape vines stock, 2958 Rt. 145, Preston Hollow, NY 12469; Tel. (518) 239-4039. [Preston Hollow Nursery
Rapazzo Stock Farm - Rt. 353, Rensselaerville; Tel. 518 797-3604.
Rolling Meadows Farm - Fruit tree sales & fruit plant nursery, certified plant dealer licensed by the Department of Agriculture and Markets; thoroughbred & trotter boarding; James A. Glorioso, 232 Knowles Rd, Preston Hollow; Tel. 518-239-5902. Rolling Meadows Farm
Sheepy Valley - "Our farm has been in the family since the early 1930's. We have a flock of Horned Dorsets, Romneys, and cross-breed sheep, chickens, honey bees, and a donkey, Jenny." 191 County Route 360, Medusa, NY, 12120.
Sky of Light Center - We offer group and private yoga sessions, energetic healing sessions, meditation and stress management programs, and private and small group retreats in a beautiful protected setting. 414 Travis Hill Road, Preston Hollow; Tel. (518) 239-4717. Sky of Light Center
White Knuckle Farm - Eggs (Brown and Arucana) & Maple Syrup; Stephen and Emelie Kenney, 89 CR 353, Rensselaerville, NY 12147.
Wild Thymes Farms, Inc. - manufacturing gourmet food, Medusa; Tel. 518-239-4756.
Wintergreen Hill - Christmas trees & wreaths, wood crafts, bird houses, furniture. Preston Hollow; Tel. 518-239-6222.
References
↑ Community Supported Agriculture, (CSA), is a popular way for consumers to buy local, seasonal food directly from a farmer. Basically a farmer offers a certain number of "shares" to the public. Typically the share consists of a box of vegetables, but other farm products may be included. Interested consumers purchase a share (aka a "membership" or a "subscription") and in return receive a box (bag, basket) of seasonal produce each week throughout the farming season.