Gathen, David
Jump to navigation
Jump to search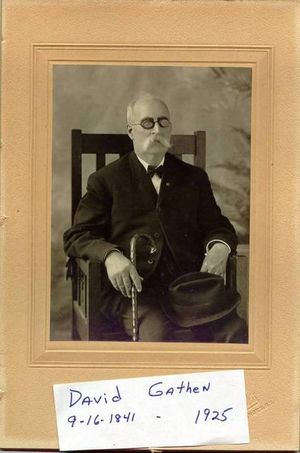 Birth
Born 16 Sept. 1841 Berne, son of Matthew Gathen and Sophia Resue.
Marriage & Children
Married Phoebe Louisa Sickles 23 Nov. 1862 at the Reformed Church, Berne. They had seven children:
Matthew A. Gathen
Ada Gathen
Rita Maria Gathen 1877 - 1898
Cora Mae Gathen
Charles Grant Gathen
David Gathen Jr.
Military Service
| | |
| --- | --- |
| Name: | David Gathen |
| Residence: | |
| Enlistment Date: | 13 Oct 1862 |
| Enlistment Place: | Rensselaerville, New York [1] |
| Enlistment Rank: | Private[1] |
| State Served: | New York |
| Regiment: | 177th Infantry[1] |
| Company: | Company C[1] |
| Wounded at: | New Orleans, LA |
| Wounded in action on: | 6 Feb 1863 |
| Wounded at: | Bonnet Carre, La[1] |
| Muster Out Date: | 10 Sep 1863[1] |
| Muster Out Place: | Albany, NY |
Additional Remarks: Enlisted at the age of 21 to serve 9 months.[1] David Gathan was blinded in both eyes during the Civil War.

Born in Berne, NY on September 16, 1842, Age 21 years, Farmer, Hazel eyes, Dark hair, Dark complexion, 5'10" tall.[2]
Sources Used: Ancestry.com, American Civil War Soldiers; Diaries of George H. Warner; Howell, George Rogers, History of the County of Albany, NY from 1609-1886, W. W. Munsell & Co., 1886, page 817 says Civil War soldier from Berne, Annual Report of the Adjutant General of the State of New York for the year 1905.
Death
David died 25 July 1925. He is buried in the Trinity Episcopal Church Cemetery in the hamlet of Rensselaerville.
Obituary
Mrs. David Gathen
Mrs. David Gathen, of Rensselaerville, died suddenly at her home in that place on April 4th. She is survived by her husaband and five children
Altamont Enterprise - April 20, 1906
Additional Research Notes
Sources
↑ 1.0 1.1 1.2 1.3 1.4 1.5 1.6 Annual Report of the Adjutant General or the State of New York for the year 1905
↑ NY Civil War Muster Roll Abstracts, Ancestry.com Military databases
Additional Media
February 1863
Thursday 5 - Awoke about 5 oclock and fell out for roll call. It is bitter cold this morning. We had no dress parade or Batallion drill today on account of the rain. I spent the day lounging about in our tent.
Friday 6 - Awoke as usual and fell out for Rollcall. It is a splendid day. Had Battalion drill as usual. The men did not pay very good attention, but the Colonel dismissed us early. Some of the boys said he was drunk; at least he had been drinking some. Had skirmish drill in the afternoon. Like it pretty good. Joel Wilson came to my tent about 6 oclock and wanted to know if I was going up the river with them on a scouting expedition. I told them I was. We got ready and started about 7 oclock. We got out on post 3 and went up the river about 6 miles. (Thare was 5 of us.)
Transcriber's note:In the back of the diary is this supplement dated February 6, 1863 as follows:
Went up to the river on a foraging expedition with 4 of the Co. C men. Their names were Joel Willson, David gathan, Hempstreet and Folka. We went up 5 miles to a large plantation after chickens. The Negroes broke open the hen roost and were getting the chickens out when the overseer came to the door and fired at us. He hit David Gathan in the face and wounded him bad. We carried him about a mile to a Negro House and sent for the doctor, but none came. 2 Lieuts. From Co. C came up with a wagon.
February Saturday 7 - Lieutenants Bronson and Lintener came up to the house where we had David Gathan and dressed his wounds as best he could and took him down to camp in a baggage wagon. We got there just as Revillee was beat. We took Dave to the Doctor's tent and then went to our quarters. About eight oclock Lieut Vance came down to my tent and told me to report at his tent, which I did. Went up to the guard tent and found Joel Willson and the other boys already thare.
Transcriber's note: George Warner and pals were put in the guardhouse as punishment
Sunday, February 8, 1863 - I am still in the guardhouse. Joe Willson and myself slept under one blanket and slept very good. The mail came up from New Orleans in the night but brought no letters for me. David Gathan is no better. A guard went up to the place where he was shot and araested the man that shot him. The regiment is on Inspection now (Company inspection). One of the Maine boys have just come in the guard tent. He is confined for leaving his beat.
Monday 9 - Awoke about 6 oclock and got ready to go down to breakfast. We all went down under one guard. We got a cup of coffee and a piece of condemned beef for our breakfast. We drew a loaf of bread for all day, but eat it about all up for breakfast and dinner. We had beans for dinner. Spent the afternoon reading a book entitled The Blue Flag. It was first rate. David Gathan is a very little better.
Source: No Place on the Battlefield The diary of a union soldier from Berne, New York. 1863 Transcribed and Researched By Norma Luce June. Selkirk, N.Y. (Published 1996)
Letter home from Jesse Denison
Jesse Denison of Knox served in the same unit as David Gathan. In a letter to his cousin from Bonnet Carre dated 17 Feb. 1863 he wrote about the incident that resulted in David getting blinded.
Four weeks ago last Friday night I was on guard about 9 oclock in the evining. 4 boys in Co. C and one in co. G run the guard as they and others have been in the habbit others more so then they to get chickens ducks and so, you know David Gathen dont you. He and Joel Willson were out to gather in the pleasant moon light eve Foraging. David got shot in his eies and face. One of his eies sort bout hung out of his head and the other he cant see out ofit. No hopes he can write. The Doc took forty shots out of face and eies. He is in the Hospital doing well.
The images of the letter has been up loaded to the Jesse Denison's biography. A complete transcription of the letter written by Jesse is here: File:Transcription.doc. It needs to be downloaded to your computer to read.
Click on the heading to redirected to an article by Anne Miller, Staff Writer, first published in the Albany Times Union on Wednesday, December 4, 2002