Gaige, Minnie L.
Jump to navigation
Jump to search
Birth
Minnie L. Gaige was born June 30, 1906, the daughter of Willard Gaige and Cora B. Schoolcraft[1] or Cora Tompkins (in obituary.) Her brothers and sisters were:
Education
Occupation
Marriage & Children
Minnie Gaige married on Saturday, November 1, 1924 Luther A. Dexter (28 APR 1899 - SEP 1979), the son of William S. Dexter and Elizabeth. Their children were:
Merlin L. Dexter, Schenectady,
Mildred Hoffman, Schenectady,
Charles E. Dexter, Knox
Shirley A. Dexter, Knox
Nancy Dexter, Knox
Robert Dexter, Knox
Richard Dexter, Knox
Barbara Dexter, Troy
Death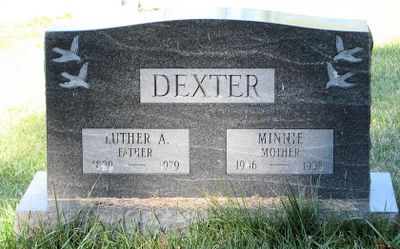 Minnie Gaige Dexter died January 7, 1998[1]
Obituary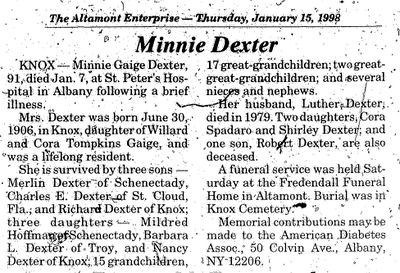 Minnie Dexter
KNOX - Minnie Gaige Dexter, 91, died Jan. 7, at St. Peter's Hospital in Albany following a brief illness.
Mrs. Dexter was born June 30, 1906 in Khox, daughter of Willard and Cora Tompkins Gaige and was a lifelong resident.
She is survived by three sons —-* Merlin Dexter of Schenectady, Charles E. Dexter of St. Cloud, Fla., and Richard Dexter of Knox; three daughters -- Mildred Hoffman of Schenectady, Barbara L. Dexter of Troy, and Nancy Dexter of Knox; 15 grandchildren, 17 great-grandchildren, two great-great-grandchildren; and several nieces and nephews.
Her husband, Luther Dexter, died in 1979. Two daughters, Cora Spadaro and Shirley Dexter; and on son, Robert Dexter, are also deceased.
A funeral service was held Saturday at the Fredendall Funeral Home in Altamont. Burial was in the Knox Cemetery.
Memorial contributions may be made to the American Diabetes Assoc; 50 Colvin Ave. Albany, NY 12206
Altamont Enterprise - Thursday, January 15, 1998
Additional Media
Sources
---