Heldeberg Market
Jump to navigation
Jump to search

The Heldeberg Market: Helping Hilltown Farmers and Home Industrialists Increase Profits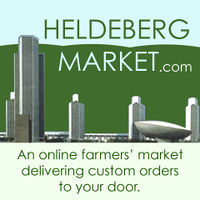 The Heldeberg Market, <www.HeldebergMarket.com> a new online farmers' market founded and operated by Sarah Avery Gordon, is now offering Hilltown farmers and artisans a low-cost approach to marketing their products to nearly 1 million potential customers in the Capital Region. The online storefront organizes and inventories Hilltown agricultural products for sale on the Internet to enable Capital Region customers to go online, place products in their online shopping cart, cash out with a credit card, and have their orders delivered to their door each week.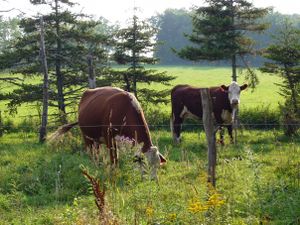 The primary goal of The Heldeberg Market is to increase the volume and value of agricultural product sales occurring directly between struggling agricultural producers in the Heldeberg Hilltowns, and the nearly 1 million consumers residing in the Capital Region.
In recent years, farmers have had an increasingly difficult time marketing their products to customers. Several Hilltown farmers' markets have shut down due to low turnouts and low sales. Additionally, this year the Hilltown Market and Natural Food Cooperative in Rensselaerville closed its doors after three years in business. According to the National Agricultural Statistics Service, Albany County farm sales have decreased by 48 percent since 1982. Furthermore, in 2007 only 3.9 percent of farm sales in Albany County occurred directly between producers and consumers.
A number of factors contribute to lagging farm sales at farmers' markets. First, with only approximately 11,000 Hilltown residents, farmers' markets in the Hilltowns do not attract enough customers to support the local farm economy. Second, it costs farmers precious time and money to personally attend regional farmers' markets. Third, most regional farmers' markets take place at the same time on Saturday mornings, preventing farmers from being able to attend more than one market. Fourth, only two of the 27 farmers' markets in Albany, Schenectady and Rensselaer Counties operate year-round, giving farmers limited opportunities to establish a year-round customer base and steady income. Fifth, many farmers' markets require up-front registration fees amounting to hundreds of dollars. Farmers are hesitant to pay these fees without knowing how well their products will sell at the market. Lastly, farmers' expertise and confidence lay in farming, not marketing.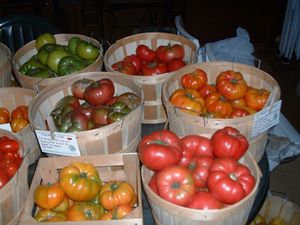 The Heldeberg Market expands Hilltown farmers' marketing opportunities by overcoming the barriers that have caused traditional farmers' markets to be unsuccessful for local small- and medium-sized farms. The Heldeberg Market aims to: increase profits for Heldeberg Hilltown farmers; increase the demand for Hilltown agricultural products in the Capital Region; decrease the time and energy farmers need to put into marketing their goods, enabling them to concentrate on increasing their agricultural productivity; strengthen the rural and regional economies; increase the economic viability of small- and medium-sized farms; launch a farmers' market that captures a customers-base large enough to support the Hilltown agricultural economy into the future; and employ modern technologies that overcome barriers of traditional farmers' markets and capitalize on the popularity of online shopping.