Delia serves one more round, to the 4th generation of Quay
Jump to navigation
Jump to search
20080228 Township Tavern Article.pdf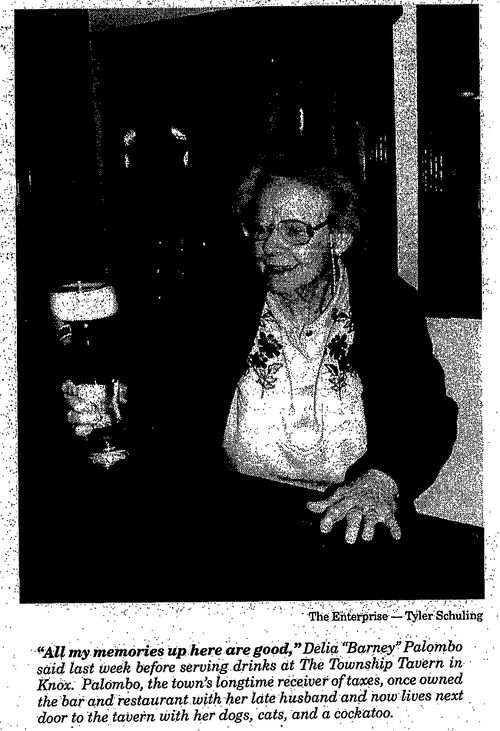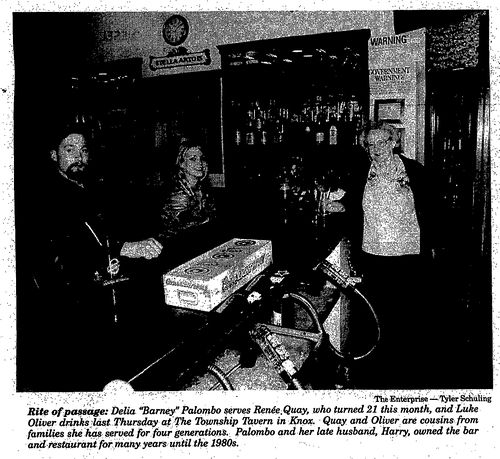 Delia serves one more round, to the 4th generation of Quay at Township Tavern
By Tyler Schilling
KNOX — Delia "Barney" Palombo sat in the Township Tavern in Knox last Thursday, remembering when she and her husband ran the restaurant that has been a longtime fixture in the community.
Though she no longer works at the tavern, Palombo stepped, behind the bar and served drinks to Renee Quay, who turned 21 this month, and Quay's cousin, Luke Oliver, The cousins are the fourth generations in their families Palombo has served. Their great grandfather, Walt Quay, was the first.
"I can remember — this was during '56, '57, '58 — things were hard," Palombo said. She remembered selling bowls of soup for 25 cents and hamburgers and Italian sausage sandwiches, made, from pork busts, for 35 cents.
Palombo and her husband, Harry, ran the bar and restaurant in Knox for decades. Harry Palombo died in 1981. Delia Palombo continued running the bar and restaurant for another five or six years.
Palombo, 85, now lives next door to the tavern with her.two dogs, two cats, and a cockatoo. She spends her time, she said, doing puzzles and cryptograms. She attends St. Bernadette's Church in Berne.

She has macular degeneration, which affects her vision, and arthritis and no longer drives a car. She uses a magnifying glass, she said, but still does her job as Knox's receiver of taxes really well. She walks over to the tayern, she said, "every now arid then to see the kids.
She misses her family and friends.- "It just kills me," she said.
Before serving Quay and Oliver Palombo at the dimly lit bar, sipping from a soda and telling tales,— of the tavern having once been a way station and a hotel; of her and her husband serving sausage sandwiches, soda, and lots of draft and bottled beer; and of the tavern, with its wood stove and dartboards, being used as a haven for locals during a winter storm in the 1950s, when the Hilltowns saw uncanny amounts of snow. Snowcats, Palombo said, had to be brought in from Whiteface Mountain in the Adirondacks.
She told of her brother, Francis Barnish, who had served in the Navy and had been on the USS Hornet when it sank. She also told of the Plankroaders, a social club made up of locals that formed after the town's sesquicentennial and dissolved just over five years, ago, she and her husband donated land to the group, and the late Robert; Whipple donated wood, she said. ,(• Though the group was only supposed to have 10 members, it saw 40 people on its first night, Palombo said.
Palombo also recalled families and neighbors she served and, celebrated with. Each year she and her husband held a Year's Eve party and on Feb. 19, she held another party, celebrating both her wedding anniversary and the birthday of Henry Quay, whose birthday fell on the same day as her anniversary.
"All my memories up here are good," Palombo said, "They're all happy memories, which is nice." .
She said of her customers, "They respected Harry and I; and I think that's why we never had any problems. Everybody was real nice."
In recent years, the bar and restaurant has changed ownership and gone by different names, most recently it has been Lucky's Tavern and The Hilltop Bistro.
Before opening the tavern last, summer, its new owner, Paul Centi, had asked Palombo if he. could name his bar the Township Tavern.
"You'll have made my husband and me very, very happy," she told Centi.'
The Altamont Enterprise - February 28, 2008