Bozenkill School
Jump to navigation
Jump to search
The "Bozenkill School" was actually located on Quay Road near Bell Road, until it was moved to the Altamont Fairgronds.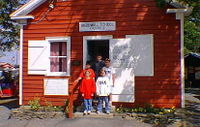 The Bozenkill School, Knox School District No. 12 was closed in the 1950s and is now an exhibit at the Altamont Fair in Altamont, NY.
Article in the Altamont Enterprise on Oct. 1985 about a reunion of former students that took place in the school.