61st Infantry
Jump to navigation
Jump to search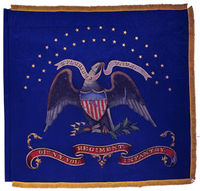 61st Infantry Clinton Guards
Mustered in: September to October 1861 Mustered out: July 14, 1865
This regiment, known as the Clinton Guards, contained one company from Madison University, Hamilton, one company from the vicinity of Albany, and the remainder from New York city.
The regiment was stationed for a short time at Washington, but moved on Nov. 28, to Manassas. It took part in the operations of the siege of Yorktown and was first closely engaged in the battle of Fair Oaks. In September of 1862, Co. I from Albany, joined the. At Antietam the regiment was in the thick of the fight, and at Fredericksburg it served in Hancock's division in the charge on Marye's heights. At Chancellorsville in May, 1863, made a gallant defense which won them high praise, and at Gettysburg the loss was once more severe. There was little rest for the worn regiment during the autumn. At Auburn, Bristoe Station, Rappahannock Station and in the Mine Run campaign, it was active, and it was mid-winter when it finally established permanent quarters near Brandy Station. The regiment was reunited in the spring of 1864 and served with honor through the severe fighting which led up to Cold Harbor and Petersburg, suffering most severely in the bloody angle at Spottsylvania. It joined in the first assault on Petersburg, June 15; was engaged at Deep Bottom, Strawberry Plains, Reams' station and Hatcher's run. It was present at the fall of Petersburg, joined in the pursuit to Appomattox, and was engaged at Sailor's creek and Farmville.

On July 14, 1865, the 61st was mustered out at Alexandria, having lost 193 by death from wounds and 123 from other causes, of whom 46 died in prison. The total enrollment of the command was 1,526 members. Its record is a long and glorious one and it bravely earned its right to rank among the most gallant organizations of the Union army.

Gettysburg, PA
Killed in action:

Wounded


Battle of the Wilderness

Fredericksburg

Wounded and disabled:

Spotsylvania
Killed in action:

Petersburg
Killed in action

Cold Harbor:
Wounded

Among those disabled:

Among those who died of disease:

Accidental deaths: