Shafer, Elias Miner
Jump to navigation
Jump to search
Birth
Elias M. Shafer was born in March 1843[1] in Berne to John N. Shafer (B. Aug 6, 1809, D. unk) and his wife Margaret Cole (B. Aug 20, 1806, D. Feb 14, 1878).[2] Elias was the youngest of six children.[2]
Marriage & Children
On January 26, 1868, Elias married Isabella Wilson (B. March 4, 1841, D. 1917), the daughter of Reuben Wilson and his wife Lany Ann.[2][3] They had two children:
Occupation
Elias M. Shafer was a farmer who owned his own farm.[4][5]
Military Service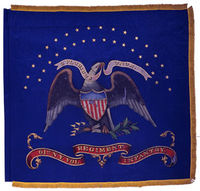 | | |
| --- | --- |
| Name: | Elias Shafer |
| Residence at Enlistment: | Berne[6] |
| Place of Birth: | Berne, NY[6] |
| Date of Birth: | 31 March 1844[6] |
| Names of Parents: | John N. (Shafer) and Margaret Cole[6] |
| Marital Status: | Single[6] |
| Occupation: | Farmer[6] |
| Term of Enlistment: | 3 years[6] |
| Bounty Received: | $100.00[6] |
| Enlistment Date: | 25 Aug 1862 |
| Enlistment Place: | Berne, New York |
| Enlistment Rank: | Private |
| State Served: | New York |
| Regiment: | 61st Infantry |
| Company: | Company I |
| Wounded on: | June 3, 1863 |
| Wounded at: | Cold Harbor, VA and taken prisoner |
| Paroled and returned to home: | on or about September of 1863 |
| Re-Enlisted on: | 28 Dec 1863[7] |
| Re-Enlistment Place: | Albany, New York [8] |
| Enlistment Rank: | Private [8] |
| State Served: | New York |
| Regiment: | 7th Regiment NY Heavy Artillery[7] [8] |
| Company: | Company M [8] |
| Mustered Out Date: | 9 Jun 1865 versus died on 5 Aug 1864 at Andersonville[7] |
| Mustered Out Place: | Washington, DC [8] |
Additional Remarks: Enlisted the age of 18.[9] "Wounded in the Battle of Cold Harbor June 3, 1863 and taken prisoner was paroled came home and re-enlisted in the 7th H Arty in the fall of 1863 Discharged May 1865 P.O. Bern Albany Co N.Y." [6] He was shot in the abdomen at the Battle of Petersburg but recovered and lived a long life.

Born in Berne, NY, Age 19, Farmer, Black eyes, Dark hair, Light complexion, 6' tall.[10]
Sources Used: Ancestry.com, American Civil War Soldiers & U.S. Civil War Soldiers, 1861-1865; 1865 NY State census Berne, Albany Co., NY; Howell, George Rogers, History of the County of Albany, NY from 1609-1886, W. W. Munsell & Co., 1886, page 817; Town and City Registers of Men Who Served in the Civil War; Keating, Robert, Carnival of Blood: The Civil War Ordeal of the Seventh New York Heavy Artillery, Published by Butternut and Blue, Baltimore, Md 1998; Annual Report of the Adjutant General of the State of New York for the year 1898.
Life
Elias was recorded in the 1865 NY State census as being still in the army by his parents.[11] After the war he returned to Berne where he married on January 26, 1868.[3][2]
Elias was a farmer in Berne. In 1880, his widowed father John Shafer was living with Elias and his young family.[12] Elias was recorded in the 1890 Veterans Census in Berne as Miner Shafer, reverting to the name with which he re-enlisted.[13] In the 1905, Elias was living on Country Road in Berne with his wife and son Myron.[14] A decade later, still in Berne while in his early 70s he was still working as a farmer.[15] His wife Isabella died in 1917. By 1925, he was living in Berne on Switzkill Street with his housekeeper Emma Southerland.[16]
Death
Elias died on or about August 31, 1929 at 2608 Albany St., Schenectady at the home of his daughter Edith, second wife of Max Jacob Ritz.[2] He was buried at Beaverdam Cemetery in Berne.[2] Elias died on August 31, 1929 at Schenectady.[17]
Obituary
THE ENTERPRISE, ALTAMONT, NY, FRIDAY, SEPTEMBER 6, 1929

The funeral of Elias M. Shafer one of the oldest residents of the community was held from the Lutheran church on Tuesday afternoon of this week. Mr. Shafer has been in failing health for some time and the end came as a relief to his suffering. He has been with his daughter, Mrs. Reitz in Schenectady for some time. He was a staunch member of the Lutheran church and although unable to attend services recently, retained his interest in his church. He served in the Civil War and was the last of the veterans in this locality. Mrs. Shafer leaves one son, Rev. Myorn Shafer of Florida, and one daughter, Mrs. Reitz, of Schenectady and a host of friends to mourn the loss. Rev. Miller officiated and undertaker Hochstrasser was in charge. Burial was in Beaverdam Cemetery.
Additional Research Notes
The Slingerland Bulletin no date given however in about early February in about 1915:
Berne: Mrs. George Culver of Schenectady, who has been spending a couple of weeks with her parents Mr. & Mrs. Elias M. Shafer, returned home on Wednesday.[18]
Additional Media

Sources