Oliver, Garret
Jump to navigation
Jump to search

Birth
Garret Oliver was born in Wright, NY on April 16, 1893 (on grave) or April 7, 1893 (on Army Service Record), the son of Peter and Elvira Oliver. His siblings were:
Ellen Oliver
Ethel Oliver
Lena Oliver
(1905 NY Census for Wright, Schoharie County, NY)
Education
Military Service
Garret Oliver was a private in the U. S. Army during World War I.
Garry Oliver, who since October has served in the U. S. Army, has been mustered out of service. He was at an army camp in Georgia,
Altamont Enterprise - January 3, 1991
New York, Abstracts of World War I Military Service, 1917-1919 about Garret Oliver[1]
Name: Garret Oliver
Birth Place: Wright, New York
Birth Date: 7 Apr 1893
Service Start Date: 23 Oct 1918
Service Start Place: Albany, New York
Service Start Age: 25

U.S., World War I Draft Registration Cards, 1917-1918 about Garret Oliver[1]
Name: Garret Oliver
County: Albany
State: New York
Birthplace: New York
Birth Date: 1893
Race: Caucasian (White)
Draft Board: 3

Occupation
Marriage & Children
Garret Oliver married Goldie Taber.
Death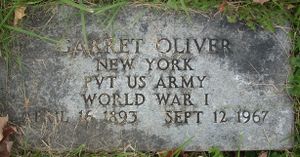 Garret Oliver died September 12, 1967.
Obituary
Garry Oliver passed away last Tuesday. He was a brother of Ollie Oliver and Mrs. Hannah Becker. Funeral services were held last Friday.
Altamont Enterprise - September 22, 1967
Additional Media
POSSIBLE:
OLIVER— McNEILLY
The marriage of Mrs. Ida McNeilly and Garret Oliver took place Monday afternoon in the parsonage of Trinity Reformed Church. Rev. George G. Seibert officiated. Mr. and Mrs. Raymond Bradt were the attendants. Mr. and Mrs. Oliver will be at home on Guilderland avenue.
Schenectady Gazzette - February 22, 1933
Sources
---