Flint, Seth
Jump to navigation
Jump to search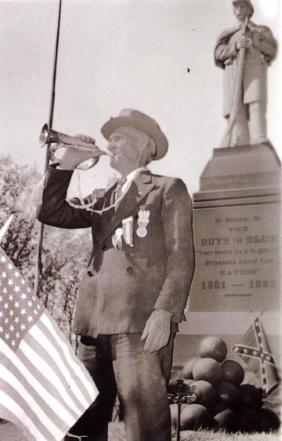 Birth
Seth Merritt[1] Flint was born October 7, 1846 in a two room cabin on Church Road, South Berne, Albany Co, NY.[2] His parents were Joseph M. Flint (B. Feb 10, 1817, D. May 11, 1854) and Sabra Ann Ticknor (B. 1823, D. 1902).[3] Seth was one of five and the oldest boy.[3] His father Joseph M. Flint died when Seth was just a boy and his mother remarried a man named Levi Bailey (B. 1827, D. unk).[3] From his mother's second marriage, Seth had a half brother DeWitt Bailey.[3]
Education
Seth was educated at the local schools in Berne.[2]
Marriage & Children
Seth married Kate M. Gifford in about 1867 in Medusa, Albany Co, NY.[3] Her name has also been recorded as Kate M. Gilford and she was the daughter of Abram Gilford.[2] They had three children:
Nellie Flint (B. Jan 1881, D. unk)[3]
After his first wife died, Seth married Frances M. Shattuck on August 2, 1893 in Worcester, Otsego Co, NY.[4] She was born in November 5, 1855 to Elmira and Amander Shattuck.[4] She had previously been married to Willis H. Cook, a Worcester merchant, until his death on January 4, 1887.[4] Seth and Frances did not have any children.[3]
Military Service
| | |
| --- | --- |
| Name: | Charles M. Server |
| Residence: | Berne |
| Enlistment Date: | July 11, 1862 |
| Enlistment Place: | Albany |
| Enlistment Rank: | |
| State Served: | US |
| Regiment: | 5th US Cavalry |
| Company: | Co H |
| Promotion Date: | |
| Promotion Rank: | |
| Promotion Date: | |
| Muster Out Date: | June 11, 1865 |
| Muster Out Place: | |
Additional Remarks: Seth M. Flint served in the Civil War under the alias Charles M. Seaver. He decided to enlist without his parents' permission, and he walked to Albany where he enlisted at 15 or 16 yrs of age on July 11, 1862. For two months he trained in Carlisle, Pa. Then he was assigned to Co. H of the 5th US Cavalry. For the next year, he fought in 18 battles until in June of 1863, he became ill with rheumatism for which he was sent to Alexandria, Va. for treatment. Unable to perform soldier activities, he was offered the position of bugler which he began in September 1863 with Co. F. In 1864, he was transferred to General Grant's staff as bugler and he served in this position until June 11, 1865 when he mustered out. On April 9, 1865 at Appomattox, he sounded the bugle call which announced the Confederate surrender and the end of the Civil War. On December 28, 1881 he applied for his Civil War pension and the application includes his birthname and alias Charles M. Seaver. Seth M. Flint and William Rose Lee wrote about his Civil War experiences and they were published in the April 6th 1940 edition of the Saturday Evening Post in an article titled "I Saw Lee Surrender". When he died in 1941, he was the oldest surviving Civil War Veteran in Otsego County. His Civil War bugle is owned by the Worcester Historical Society and is sounded there in annual Memorial Day ceremonies.
Sources Used:

Ellis, D. A., "Grand Army of the Republic; History of the order in the US by counties; Otsego Co posts Dept of NY including a complete record of soldiers surviving and buried in the county with company and regiment", Bernehistory.org, Rolph, Daniel N., "My Brother's Keeper: Union and Confederate Soldiers' Acts of Mercy During the Civil War" Published by Stackpole Books page 107, Ancestry.com Civil War Pension file Index; Howell, George Rogers, History of the County of Albany, NY from 1609-1886, W. W. Munsell & Co., 1886, page 817.
Life
After he mustered out from the Civil War, in July of 1865 he went to work for Moore, Wilstach and Baldwin publishers. After his marriage in 1867, he worked as a farmer in Rensselaerville. Two years later in 1869, he became a merchant there.[2]
In 1870, he moved with his former clerk, Mr. C. E. Taylor, to Worcester, Otsego County, NY. There they started "Flint and Taylor" a clothing business, which included manufacture of ready made clothes are well was tailoring..[2]
In March of 1887 he was among the jurors for the Otsego County Court in Cooperstown.[5]
Years later, Seth went into the real estate business in Worcester.[2]
Seth and his family lived on Main Street in Worcester.[2]
Associations
Seth was active in the Grand Army of the Republic, an organization of Civil War Veterans. He became the commander of the Johnson Post in Worcester.[2][6]
Death
Seth's first wife Kate M. Gifford died in 1892 in Worcester, Otsego Co, NY and was buried there at Maplegrove Cemetery.[3]
Seth lived a long life dying at age 93[7] on March 18, 1941 in Worcester.[3] He was buried with his first wife Kate at Maplegrove Cemetery.[3]
It is not known when his second wife Frances died although it was after 1930.[3] His son G. Abram Flint lived in Fitchburg, Mass.[2]
Obituary
Oswego Palladium-Times Wednesday March 19, 1941 page 4
Civil War Vet Passes; Sounded War End Call
Seth M. Flint,93, Otsego County's last Civil War veteran who claimed he sounded the bugle call signalling the end of the Civil War, died last night. Flint born in Berne Oct 7, 1847, spent most of his life in the real estate business here. He enlisted in the northern army June 11, 1862 when not quite 15 years old and served the war's last year as a bugler with General U.S. Grant.
The Otsego Farmer, March 21, 1941, pages 1 & 8
Grant's Bugler Dies At 94 At Worcester Home. Seth M. Flint, Who Enlisted for Civil War at 15. Sounded Final Note. Witnessed Surrender of General Robert E. Lee--Otsego's Last Link With Rebellion. Taps sounded for the last Otsego county veteran of the Civil War shortly after 8 o'clock Tuesday night when Seth M. Flint, who was with General U. S. Grant, died suddenly from a heart attack. Ordered by his physician not to exert himself, Mr. Flint had been down cellar at his home at Worcester and collapsed after climbing the stairs. Until then, he had been in his usual health. He was ninety-four years old. Otsego's last intimate link with those stirring days of '61 died with Seth M. Flint. Before his eyes had passed those gigantic figures of history, Lincoln, Grant, and Lee. From his lips sounded the call, "Forward," which sent Union soldiers into a defeated South after Grant and Lee had settled the epochal peace terms which were forever to unite the states into one great union. Only a boy of fifteen when he enlisted, he saw and took part in the gigantic struggles that were Antietam, Malvern Hill, Fair Oaks, Fredericksburg, and culminated in the high tide of the Confederacy at Gettysburg. Born at Berne, October 7, 1846, a son of Joseph M. and Sabra Ann (Ticknor) Flint, Mr. Flint came of a family that had participated in all of America's wars except that with Mexico the year he was born. His great grandfather was Capt. Joseph Flint of Revolutionary war fame, and his grandfather, Asa, took part in the war of 1812. Seth Flint's son, the late Abram G., born of his first marriage, served in the First Wisconsin infantry in the Spanish-American war, and Abram's eldest son, Gifford, now of Janesville, Wisconsin, was overseas more than three years during the World War. Twice Married. Shortly after the close of the Civil war, Mr. Flint married Kate M. Gifford, daughter of Mr. and Mrs. Abram Gifford at Medusa February 6, 1867. On first returning from war service, he had been associated with Moore, Wilstach and Baldwin, New York city publishers, and after his marriage conducted his father-in-law's farm for two years. Entering mercantile business in Medusa and Rensselaerville, he remained there until 1880 when he came to Worcester, and with C. E. Taylor, a former clerk, established a clothing and furnishing goods store here. On the death of his partner, he closed out the business and engaged in real estate and insurance operations until his retirement in 1920. A lifelong member of the Baptist church, he had served as superintendent or teacher in Sunday school for seventy years. A former Mason and member of the Red Mens order, he had been commander of the Johnson post, Grand Army of the Republic, which now goes out of existence with his death. Educated in the public schools in Berne and this village, Mr. Flint had also attended the United States Military school at Carlisle, Pennsylvania. A mere boy on that far gone day in June, 1862, when he went to Albany with several other young men, he enlisted in the Fifth cavalry, formerly the Second Dragoons of which Robert E. Lee had been lieutenant colonel. Old Regiment Met Commander. Lee, and other officers in the regiment of southern birth had resigned their commissions in the Union Army and joined the Confederacy. Less than half of a decade later, Flint, a bugler boy with Lee's former regiment, was to be the first to meet him when the Southern leader surrendered. Recruiting officer at Albany on the 11th day of June was Lieut. Napoleon B. McLaughlen, who later was to rise to brevet brigadier general and whose remains now lie in Maple Grove cemetery here. Walking to Albany to take part in the great war between the states, the youth had to tell the officer that he was eighteen, and was told in turn, "you are just the boy we are looking for." Thus he became a private in the Fifth Cavalry. Rushed to the front, Flint's outfit disembarked at Harrison's Landing, Virginia, near Richmond, under shot and shell of the enemy's guns. There shots whizzed past, shells burst, and a battle raged in plain view of the raw recruits. The lad was just in time to participate (Continued on page 8) -- which is not available.
Time Magazine March 31, 1941
Died Seth Flint, 93, who sounded the bugle call at Appomattox ending the Civil War; in Worcester, NY.
Additional Research Notes
Seth Flint and his Civil War connections have been recorded in many articles and books including:
Quarterly Journal of NY State Historical Association by NY State Historical Association 1928 page 394.
Berstler, Brenda "Homeplate: The Travelers Food Guide to Cooperstown and Otsego NY 2006 page 84.
Slonimsky, Nicolas "Music Since 1900" Published by Schirmer Books 1994 page 461.
Flint, Seth M. & Lee, William Rose "I Saw Lee Surrender" Saturday Evening Post, April 6th 1940, no 41 page 87-90.
Rolph, Daniel N., "My Brother's Keeper: Union and Confederate Soldiers' Acts of Mercy During the Civil War" Published by Stackpole Books page 107.
Ellis, D. A., "Grand Army of the Republic; History of the order in the US by counties; Otsego Co posts Dept of NY including a complete record of soldiers surviving and buried in the county with company and regiment",
Additional Media
Sources
↑ Howell, George Rogers, History of the County of Albany, NY from 1609-1886, W. W. Munsell & Co., 1886, page 817
↑ 2.00 2.01 2.02 2.03 2.04 2.05 2.06 2.07 2.08 2.09 2.10

Ellis, D. A., "Grand Army of the Republic; History of the order in the US by counties; Otsego Co posts Dept of NY including a complete record of soldiers surviving and buried in the county with company and regiment"

↑ 4.0 4.1 4.2

Kilmer, C. H., "History of Kilmer Family in America," Published by C. H. Kilmer, 1897, page 32.

↑

The Richfield Springs Mercury, Thursday Feb 24, 1887

↑

NY State Legislature, "Documents of the Senate of the State of NY" Published by E. Croswell 1918 page 276

↑

Time Magazine March 31, 1941