Tallman, Fletcher D.
Jump to navigation
Jump to search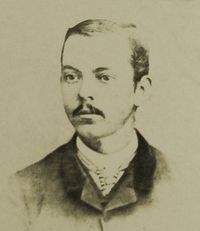 Birth
Fletcher was born on December 23, 1867, in Medusa[1][2] to Salem M. Tallman and Salina Lounsbury and grew up there. His mother, Salina, died the following month, approximately three weeks later from complications from his birth. After his mother's death, Fletcher was raised by his Grandmother Elizabeth Lounsbury and his father Salem.[3]
Occupation
Fletcher was a farmer and laborer his entire life. Beginning in 1879, he operated a Cider and Saw Mill in Rensselaerville that was previously run by his father. The mill was on the property of Charles D. Griffen along Ten Mile Creek. In March 1895, Fletcher purchased the property, but it was foreclosed on in November 1903 and sold.
Marriage & Children
In 1886, Fletcher married Mary Ellen Tappan and they had two children, an infant boy that died at one month and a daughter, Hilda Salina Tallman. By 1900, Fletcher and Mary had an "adopted daughter", Lulu, in their household. It has been concluded that Lulu was just staying with them and was listed on the census erroneously as "adopted".[4]
Fletcher and Mary separated, and by 1904 he moved in with Alice W. Freleigh. Fletcher and Mary are said to have divorced in 1917, which was thirteen years after they separated. By that year, Fletcher had already had eight children with Alice. The U.S. Census indicates that Fletcher and Alice were married in 1906, however, based upon the information on when his marriage ended to Mary, and the fact there is no other proof that he actually married Alice, it is believed that his relationship with Alice was a common law union.[5] Fletcher and Alice had fourteen children between 1904 and 1921 all born in Medusa:
Fletcher and Alice lived in Rensselaerville until about 1925 and then moved to nearby Westerlo. His father Salem lived with him and his family from 1900 until his death in 1917.[5]
Diaries
Like many people Fletcher kept a diary of daily happenings. His diaries have been transcribed and are available to read and print.
Death
Fletcher died on October 29, 1940, in Albany Hospital in Albany, at 73 years of age.[6] Prior to that he had been in the Ann Lee Nursing Home.[7] He was buried in Medusa Cemetery.[2]
Obituary
TALLMAN - Albany Hospital, October 29, 1940, Fletcher Tallman of Dormansville, NY. Funeral Thursday at 2 o'clock from Cunningham Funeral home, Greenville, NY. Friends may call at the funeral home Wednesday evening from 7-9.
Noted Discrepancy
The book "Bouton-Boughton Family", by James Boughton (Published 1890) erroneously states that Fletcher's birth date was April 7, 1867. It has been determined by a diary entry he made on December 23, 1882, where he wrote: "My Birthday" that his birth date was December 23, 1867.
Additional Media
Sources
---