Lot 594
Jump to navigation
Jump to search
Lot 594
Grid 595
Foxenkill Creek, (Beaverdam) Berne[1]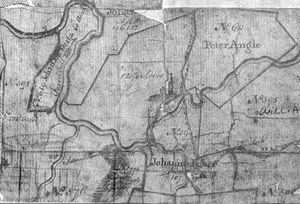 Initally setted by Nicholas Ecker and his son Johannes Ecker (1735-1817)
Current Owner: James Hamilton and Mary Ellen
Address: 2216 Switzkill Rd.

<1745 - A study of the vital records of the Ecker family indicates that the farm was probably homesteaded by Nicholas Ecker before 1745.
1767, West Rensselaerswyck, Albany Co, NY - Tax Rolls: John, Joseph and Peter Ecker families, living near Dietz/Tiets.[2] -- right now, Glen Swartz assumes the tax paid on this land, was that land initially held by Nicholas Ecker.
1774 Sep 12, lease, Van Rensselaer to Johannis Ecker of the Beaver Dam in the Manor of Rensselaerwyck, Yeoman; 141 acres. (On the same day Conrad Schwart signed a similar lease for Lot 518 in the Switzkill Valley, as did Peter Deitz for Lot 519.
1787 survey map by Wm Cockburn shows lot 594 as an irregular shaped lot of 107 acres on both sides of Fox Creek was being leased by Johannes Ecker. His house was on Switzkill Road where the barns are now located for 2216 Switzkill Road.[3] The irregular shape indicates that the land was settled before the survey. From this it can be deduced that Ecker was a squatter on the land owned by Stephen Van Rensselaer whose ancestors had been granted essentially all of the land in Albany and Rensselaer Counties in 1629. While the Van Rensselaers leased the land below the Helderberg escarpment to Dutch settlers, the land above was assumed by them to be wilderness. Unbeknownst to the Van Rensselaers, squatters of German and Swiss descent had begun homesteading the good valley land along the banks of the Foxenkill and the Switzkill beginning about 1740.
1782, a muster roll, section no. 3; ... Adem Deitz, Adem Deitz, Jr., Hendryck Deitz, Jury Ball, ... Counrade Swarts, ... Johannis Eker, Nicolas Eker,...
1790 Margaret Ecker, daughter of Nicholas Jr., md. Johan Jost Schaeffer son of a Jost Schaeffer who lived a mile south on Lot 558
1790 census Rensselaerville, Albany Co, NY (M637-6),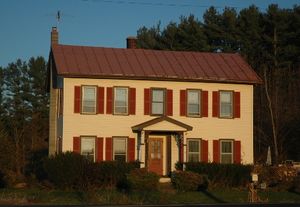 1800 Bern, Albany Co, NY (M32-22),
1810 Bern, Albany Co, NY (M252-26),
1820 Berne, Albany Co, NY (M33-63),
1837 Van Rensselaer lease records show Johannes Shafer was leasing this lot. Perhaps he built the older part of the house, what is now the back wing. Imagine it as a small house. Many 19th Century Berne houses have what now appears to be a small wing, but that was actually the original house.
> 1844 - After Shafer's wife died in 1844 he continued to live here, sharing the house with his nephew William Shafer and family.
1850 census his widowed sister-in-law Magdalena Snyder Shafer and her son also living in the house, so there were actually parts of three related families living in the house. The relatively high value of the real estate shows that the newer part of the house had already been built, so the house was now a duplex.
1854 map shows the Widow Shaver living in the house, Anna's husband William having died in 1848.
1866 Beers map shows A. and J. Shaver living at what is now 2216 Switzkill Road. That would be the families of the widow Anna Shafer and her son John W. Shafer.
1865 census shows both families in one house.
1950's Everett Schoonmaker had a dairy farm and also had a grocery store in West Berne.
1983 Jim and Maryellen Hamilton purchased this house. It was still a two family house.
The Shafer Family Burying Ground is north on Switzkill Road on the left side of the road on the bank of the Foxenkill.
Additional Media
NY Berne-1900 Fox Creek Map.jpg

1900, Topo, Foxkill (Fox) Creek
Sources
↑ Christoph, Florence A. "Upstate New York in the 1760s: Tax Lists and Selected Militia Rolls of Old Albany County, 1760-1768." Camden, ME: Picton Press, 1992. pp53, 60
↑ Photocopy, 1997, found in the "Van Rensselaer Manor Papers," Manuscripts & Special Collections at the New York State Library, Albany, NY
---