Proposals for Towns, Farmers and Businesses
Jump to navigation
Jump to search

Proposals for the town of Knox, town farmers, and businesses to give more reasons to visit Knox and to enhance their experience.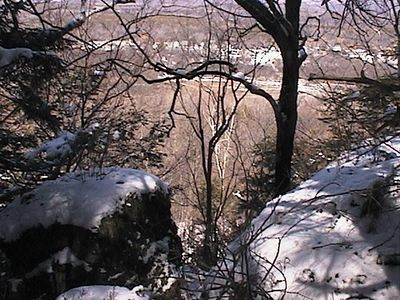 Promotion
Advertise the natural beauty of the hill towns and the outdoor recreation opportunities.
Attract folks interested in hiking, fishing, history, and photography.
Make the hill towns known for their great variety of trails.
Trails
There are many opportunities for expanding the existing system of trails.
The towns should encourage the planning and construction of scenic trails for use by hikers, bikers, horseback riders, fishermen and women, photographers, cross country runners, etc. In the fall they might be used by hunters; in the winter by cross country skiers.
Add new trails to connect existing natural reservations.
Promote a system of bike trails though-out the hill towns.
New trails in Knox
Truax Road trail extension - Truax road trail extends from Street Road most of the way to the State-owned Burke Wildlife Management Area. It would be desirable to develop a public trail to the State land, and from there, along the Helderberg Escarpment edge, to High Point and the Long Path.
Warners Lake Trail - There could be a trail from the top of Cole Hill starting at The Long Path and down the hill somewhere and along the tree line on the east side of the Cole Hill valley, across Fox Creek at the bridge on Cole Hill Road and up the old Camp Orinsekwa Lane and along the west side of Warners Lake and on to the Knox (Burke) Preserve. Along the lake it might be used by bicyclists and runners as well as hikers.
Identify existing resources
Historic mill sites
Survey of historic mill sites to locate and document the conditions of the remains of any historic sawmills and grist mills and dam sites. Like abandoned cemeteries, these abandoned ruins will eventually be lost. It would be good to know exactly where they were before it is too late.
Family burying grounds
Locate and restore abandoned family burying grounds whose locations are not now known.
Historic building survey
Survey of extant historic buildings in the town with a history of each.
Proposed changes to town plans
In any district of the town a home owner may operate a Guest House. The definition of a Guest House is a home owner who makes extra bedrooms available in their home for occasional guests. The Guest House is not a business but rather a way to earn extra money for the home owner from time to time.
Landowners whose land a trail crosses or who live within say 1000 feet of a trail could be encouraged to build facilities along such trails to benefit users of the trails and to charge for their use: trail shelters, tent camping sites, toilet facilities, picnic tables, fire pits.
With special permits, landowners in agricultural districts should be allowed to build cabins for rent by the day or week, and to build facilities for use by recreation vehicle campers.