Patroon Land Farm
Jump to navigation
Jump to search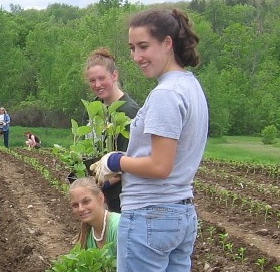 ▪ A Garden That Feeds Many ▪

a collaboration of two not-for-profit organizations

Patroon Land Foundation
153 Ketcham Road
Voorheesville, NY 12186


and

Regional Food Bank of Northeastern New York
965 Albany-Shaker Road
Latham, NY 12110
(518) 786-3691
http://www.regionalfoodbank.net ________________

CREATING A SUSTAINABLE LOCAL FOOD SUPPLY TO ALLEVIATE HUNGER
Patroon Land Foundation
The Patroon Land Foundation came into being in 1997 when Pauline Williman was inspired by the example of an Irish land trust. She endowed the Foundation with the portion of her family's farm that she inherited after her mother's death. Those 162 acres are dedicated to remain as agricultural land, devoted to relieving hunger and offering opportunities for agricultural education.
Beginning in 2001, Pauline and her brother, William Salisbury, with the help of family, friends, neighbors, and volunteers, planted and harvested the Foundation's first crop. All of the food was donated to the Regional Food Bank of Northeastern New York to help feed hungry people.
Regional Food Bank
The Regional Food Bank of Northeastern New York works to alleviate hunger and prevent food waste by collecting donations of wholesome food from the food industry and distributing it to agencies that feed the hungry and those in need of food assistance. The Food Bank provides food to over 1,000 agencies in 23 counties of Northeastern New York. Agencies served include food pantries, soup kitchens, emergency shelters and programs for the disabled. More than 250 local and national companies donate food to the Regional Food Bank of Northeastern New York. The Food Bank is a member of America's Second Harvest – The Nation's Food Bank Network, and is one of eight food banks serving New York State.
Patroon Land Farm
In the spring of 2006, Pauline Williman, then eighty years old, asked the Regional Food Bank for help operating the Foundation's farm.
The Food Bank saw the Farm as a great potential, long-term source of food. The quality and variety of crops from the Farm were superior to most of the other produce donations the Food Bank received, and with some help, production could be increased. An agreement was reached – the Food Bank hired a Farm Manager in May 2006, and the Patroon Land Farm project was launched.
How You Can Help
If you would like to support sustainable farming, alleviate hunger in our community, and educate the next generation of farmers, you can help in several ways.
Volunteer to plant, cultivate or harvest crops at the farm on Ketcham Road near Thacher Park west of Albany. Call the volunteer coordinator at the Food Bank (786-3691) to learn about opportunities;
Join the Patroon Land Farm's Community Supported Agriculture program starting in 2008. As a member of the CSA, you will receive a supply of vegetables throughout the summer and fall harvests.
Send a donation to the Patroon Land Foundation or the Regional Food Bank designated for the Farm. The Food Bank provides $10 to $12 worth of food to relieve hunger for every dollar it spends.
Patroon Land Foundation, Ltd.
153 Ketcham Road
Voorheesville, NY 12186