Lot 797
Jump to navigation
Jump to search
The Early Families of Lot 797 on the Stephen Van Rensselaer'1787 West Manor Lease Map Surveyed by William Cockburn

The Barent Lewis Stone House on Bozenkill Rd. Knox, NY and my conclusion of who built there, by [email protected] Allan F. Deitz
Barent Lewis House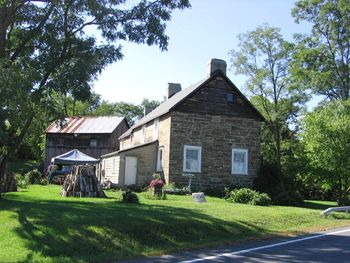 Lot 797 consisted of 222 1/2 acres of land in 1790 on what became the Bozenkill Road in the present Township of Knox . In that year, this lot was leased by the Albany Patroon to Tunius Terpenning and and his son Jacob from the Kingston-Rhinebeck area of New York. The lot is just west of the Guilderland--Knox Town boundry. In 1787 it was part of the Township of Watervliet. In 1790 it was in the Township of Rensselaerville. In 1795-Bern, and in 1822-Knox, as they were formed. It has a nearby railroad track from the 1866 Albany and Susquahanna RR crossing the road (once called the Bozenkill Pike). Members of three families, all from the central Hudson Valley, suggesting they knew each other before coming to lot # 797, were the first known settlers on this lot.
I. The Terpenning Family
The names of Teunis and Jacob Tarepenning appear on Lot #797 of the 1787 VR Lease Map. The Terpenning Family originally settled in and near Kingston, Ulster County, New York. It became a large family during the 1600s, 1700s, and 1800s, spreading over and beyond Ulster County in the Hudson River Valley. Teunis with his family and siblings moved from the Hudson Valley to "the Helleburgh" c. 1770. The Teunis Terpenning of the Albany County Van Rensselaer records was born in December, 1746 at Rhinebeck Flatts, Dutchess , NY, and christened on Dec 28, 1746 at the Reformed Church, Kingston, Ulster County, NY. Teunis (sometimes spelled Theunis) Terpenning married Brechje Van Auken (Van Aken) on Oct 2, 1768 at Rhinebeck Flatts, N.Y. (Terpenning has many spellings among their records.)
Teunis was the son of Jacobus Terpenning- b. 25 Jul 1725 in New Paltz, and Marietje Beem- b.1720/21 in Kingston, Ulster County, NY . They were married on 25 May 1746 in Kingston, Ulster County. Their children were Teunis, Petrus (b.Dec 1749), Maria (b. 14 Aug 1752 - m. Henry Van Auken), Elizabeth (b. 1754- m. Levi Van Auken, and Jacob( b. 25 April 1755-d. 15 Mar 1813). His grandparents were Dirrick Teerpenning, born at Marbletown, Ulster, and Rachel DeGraff. Teunis was also the great grandson of Gerret Pieter Lambertzen, christened on 26 Jan 1670 in Hurley, Ulster, NY. Gerret married Antje (Anna) Dirckse Hoogland. She was born in 1663 in Bedford, Long Island, Queens, NY. Gerret and Antje had five children, all adopted the name Tearpenning. They were Teunis (b.before 7 Feb 1697-d. after 6 May 1746), Brechje (b. in Marbletown), Klaartjen (b. in Marbletown), Jan (b. in Marbletown), and Dirrick (b.Dec. 1703 in Marbletown). Gerret died after 1713.
Teunis Tearpenning of the Bozenkill Valley is listed on the 1790 First Federal Census (1-2-3-0-0) in the Town of Watervliet (included present day Town of Knox). He enlisted in the Militia of Ulster County, Fourth Regiment, under Colonel Johnnes Hardenburgh during the Revolutionary War. Van Rensselaer lease records list the following statements for Teunis Terpening indicating he and wife Brechje owned land in Albany County near the end of the Revolution: 1) Release from Teunis Terpening of farm in the Helderberghs December 3, 1780 to Jacob Terpening. 2) Quit claim from Teunis Terpening of house and lot in Albany County May 14, 1791 to Jacob Terpening. 3) Power of attorney from Stephen Van Rensselaer to Michael Frelighley vertue of which he re-entered and took possession of the premises leased Killian D. and William B. Winnie and put Teunis Terpenning in possession of same, Oct. 3, 1803- to Teunis Terpenning. He obviously had large land holdings in the West Manor of Albany County.
Records of baptisms and marriages of the Helderbergh Dutch Reformed Church at Osborne Corners, between Guilderland Ctr. and Altamont, show that Teunis and son Jacob Terpening attended several services at that church; 1) 1788, on July 7th, Jacob and sister Maria Terpenning were sponsors at the baptism of Jacob Van Aaken-b. April 15 the son of Levi Van Aaken & wife Elizabeth Terpenning. 2) 1790, on Dec 14th, Tunius Terpenning and wife Branchy Van Auken were sponsors of a baptism for Helena, the daughter of Soloman Benschoten and wife Margaret Van Auken. 3) 1795, on Jan 9, Thunius Tearpenning is listed as the sole sponsor for the infant baptism of Jacob, son of Necholas Sieversen and wife Elizabeth Teerpenning, first wife of Necholes and sister of Teunis Tarpenning. 4) 1796, Teunes Tearpening and Brechae Van Aken (wife Bregje Van Aeken )were sponsors for the baptism of Annatje , daughter of the of the same Nicholes & Elizabeth, who was born 18 Mar 1796. 5)On 12 Mar 1798, Jacob Terpenning, son of Teunis Terpenning, married Catherine Post (daughter of Benjamin Post of the Helderbergh) at Helderbergh Reformed Church. 6) 1799, Teunis Teerpenning and wife Bridgeth VnAken were sponsors for the baptism of Teunis (b. Apr 12), the son of Jacob Teerpenning and Catherine Post.
Jacob Terpening was baptized in 1775 in New Hurley, NY, the son of Theunis Terpening and Bretje Van Aken. The 1800 Federal census for Berne, NY lists Jacob Tarpenning with a wife between 16-26, and a child under 10. He and wife Catherine had another child, Rebecca in 1803. Jacob entered into a lease with Stephen Van Rensselaer for 122 1/2 acres on the eastern part of Lot 797 on 7 Sept 1804. On that same date, the western 100 acres of the Lot was leased to a Barent Lewis of Rhinebeck, Dutchess County, NY. Thus, the first lease of Lot 797 was made 30 Dec 1790 to Teunis and Jacob Terpening. By 1804, the Lot was divided nearly in half for Jacob Terpenning and Barent Lewis. Since 1803, Teunis had been in possession of a lot previously leased by Killian and William Winnie. Teunis died sometime after 1806. He is probably buried in the Terpening Cemetery at Esopus, Ulster, NY. His grave has not been found in Albany County.
II. The Kipp/Kip Family
Jacob Terpenning transferred his 122 1/2 acre farm over to a John J. Kipp sometime before 1821. In 1821, John J. Kipp and wife Ann transferred 10 1/2 acres on the line of Isaac Crary's farm to Barent Lewis. John J. Kipp was born 26 Mar 1763 in Rhinebeck, Dutchess, NY and died 5 Oct 1842 in Knox. He was the son of Jacob R Kipp and Marytje Kipp. He had bought or otherwise obtained the Jacob Terpenning farm . He married Annatje (Ann) Lewis, sister of Barent Lewis. She was born 29 Sept 1771 in Rhinebeck, Dutchess, NY, and died in 1846 in Guilderland, NY. They had the following children: 1) Igness Kipp was born 3 Aug 1797 in Dutchess, NY & died in Guilderland in 1826. 2) Annatje Kipp was born 16 Jul 1799 in Dutchess, NY. 3) Jacob Kipp was born 6 Aug 1801 in Dutchess, NY. 4) Sarah Kipp was born 21 Oct 1803 in Dutchess, NY. 5) Abraham Lewis Kipp was born 21 Feb 1806 in Dutchess, NY. 6) Barent Lewis Kipp was born 22 Sep 1811 in Guilderland, NY. He was christened 14 Oct 1811 in Guilderland and died in 1880. 7) Sarah Maria Kipp was born 1 May 1819 in Guilderland, was christened 18 May 1819 in Guilderland, NY. From the birth record of the children, it appears the John J. Kipp family arrived at lot #797 between 1806 & 1811. For some years, Barent Lewis and brother-in -law John J. Kipp were neighbors on lot #797. This may have been the result of Barent's sister Ann's marriage to John J. Kipp and the fact that both families originally lived in Rhinebeck, Durchess, NY. John J. Kipp is buried in the Barent Lewis Family Farm Cemetery located near the northeast section of the farm.
Igness Kipp and wife Leah had a daughter Sarah (b. 1821), and a son Louis Kipp(1811-1886) who inherited or bought the former JacobTerpenning farm from his grandfather, John J. Kipp. Louis (Lewis)Kipp married Mary Ann Bundy (1817-1884). They had three children; John, Andrew M. amd Jacob.
III. The Lewis Family, and the Stone Farmhouse/Tavern
Barent Lewis was born in Aug 1776, the son of Abram of Rhinebeck according to the Barent Lewis Bible records compiled by former Guilderland Historian, William A. Brinkman. He died 5 April 1848 on his farm in the Town of Knox, Albany County, NY. and was buried in his farm cemetery. His parents were Abraham Lewis and Leah Van Wagenen. They had the following children: Stephen, David, Ann (1771-1846) who married John J. Kipp, Barent(1776-1848), & Henry (1777-1857). Barent Lewis married Caroline Van Wagonen (b. 15 Aug 1785-d. 21,1867) on 12 Dec 1802 at the Reformed Church , New Salem, Albany County, NY. She was also buried on the Barent Lewis Farm Cemetery. Barent and Caroline had the following children: Abram (b. 22 Oct 1816- d.12 Apr 1894), Rachel (b. 27 Mar 1819 and baptized at Helderberg Ref Ch), Sarah Cathaline (b.14 Jan 1822) and John (b. 1830- d. 1910).
On 7 Sep 1804, Barent Lewis leased from Stephen Van Rensselaer the western 100 acres of lot 797, then in the Township of Berne. Today, a unique stone house stands on former lot #797 just south of Bozenkill Road in the Township of Knox on the east bank of a stream that flows from the Altamont resevoir north through a large gorge as it enters the Bozenkill Creek. Because Van Buren family oral history states that this stone house was built for use as a tavern as well as a farmhouse, I believe it was built by Barent Lewis somewhere between 1804 (the beginning of his lease) and 1819. According to the early Town Clerk Records of Berne, NY; "At a meeting of the Commissioners of Excise on the taxes held at the House of Jacob L. Weidman on Tuesday the 4th day of May, 1819, the following persons were permitted to retail strong or Spiritous Liquor or Keep an Inn or Tavern at the following rates to their respective names VIZ--
Barent Lewis License $5. -
Several other names follow. Barent may have been licensed for same earlier as well. The Commissioners of Exise in 1819 were Gedeon Taber, Nott Gallup, Henery Brown and Robert Bell. A second fact in my conclusion that Barent Lewis built this stone house is that it is not shown on the 1787 Van Rensselaer Lease Map, while a house (probably the Terpenning house) is shown much further east north of the road on lot #797.
Helen Wilkinson Reynolds wrote in her excellent book, "Dutch houses In The Hudson Valley Before 1776" (1928) that "the use of stone for house building continued in Ulster until after 1800, and not until the nineteenth century was wood employed to any great extent." Many of the houses in photos of Ulster county in her book show stone houses that look like the Barent Lewis House. Since Barent Lewis was born just across the Hudson River in Rhinebeck, Dutchess county, it is probably the reason the Barent Lewis house was built like many of the Ulster county stone houses.
Many of these stone houses were built between 1725-1740 in Ulster. Among the deeds for the house is a note that reads, "House started in 1731 and completed in 1735." But no mention is made as to what house the note refers. The case for the 1800s date is suported by Reynolds book. She wrote, "The use of stone in house-building declined toward the end of the eighteenth century in all the river - counties but Ulster, where it continued into the nineteenth ; but a very little experience serves to enable an observer to distinguish between houses of stone built earlier than later. As time went on tooling carefully increased and the stone houses ultimately consisted of blocks,carefully cut, smoothed and fitted. They also increased in height. Rarely was a stone house built in two full stories before the Revolution." The Barent Lewis House has smooth stone that appears was taken from the huge ravine with the stream across the road near the barn.
A carriage house is located next to the house, and two barns are on the north side of Bozenkill Rd. One barn has been made into apartments. The barns are not Dutch barns, but parts of a Dutch barn are evident in the barn directly across from the stone house. A ramp carries hay wagons up the western side of the barn to the center bay.

Deeds of Land Transfer on lot 797
1- 1850- Barent Lewis died in 1848. On April 16, 1850, Caroline Lewis, wife of Barent, Abraham Lewis and Lavina his wife, Rachel Lewis, Sarah C. Lewis and John V. W. Lewis- widow and heirs of Barent Lewis sold 100 acres and 10 1/16 acres, Knox to William Fairle Jr. for two thousand one hundred dollars. Although not mentioned, this land included the stone house.
2- 1852-On March 26, 1852, William Fairlee Jr. & wife Adeline of the town of Knox sold 100 acres and 10 1/16 acres in the Town of Knox to Andrew Keenholts of the town of Guilderland, for two thousand five hundred dollars.
3- 1854- On June 5, 1854, Andrew Keenholts and Mary his wife, of the Town of Guilderland, sold 100 acres and also 10 1/16 acres, Knox to their son Stephen Keenholts of the Town of Knox, Albany County, NY for one thousand one hundred dollars.
The 1854 Gould Map and the 1866 Beers Map show an S. Keenholts (Stephen) Keenholts living at the location of the Stone Farmhouse.
The 1880 US Federal Census lists a Stephen Keenholts, born abt 1825, married to Catherine, and living in Knox, Albany, New York. He is also listed in the 1870 US Fed Census as living in Albany County, New York.
About 1920, Orville and Ada Van Buren purchased the stone house and some acres from the Keenholts family. This house at 485 Bozenkill Rd. stayed in the Van Buren family until 2006, when it was purchased by the current owners, James & Bonnie Spencer, his wife and Henry & Renate Writt, his wife and the parents of Bonnie. Alpaca are currently raised on the farm. The stone house has been greatly renovated inside. The house , barn and carriage house retain Dutch architectural influence. A house gable end faces the road. The Van Buren family has original deeds for the house for the years they owned it, back to 1920. A note among them reads,"house started in 1731, finished in 1735." But no reference to what house is made, and no source has been found to confirm it is the present stone house.
---
TollGate Mr. Spencer has been told that c. 1850 there was a tollgate at the location of the house and tolls for using the Bozenkill Turnpike were collected there for a short period. The only evidence I could fine that indicated that was possible is the name" Bozenkill Pike" used in an article in the archives of the Altamont Enterprise, and the apparent vacant stone house the two years William Fairlee Jr. owned it. It could have been used as such from 1850-1852. But I have no conclusive evidence of this.
---
From the Altamont Enterprise. June 8, 1948 issue, is the following obituary;
Mrs. Emma Keenhilts, widow of the late Andrew Keenholts, died at the Altamont Convalescent home on Monday, aged 91. Mrs. Keenholts had been in failing health for several years.
Born in the Town of Knox, the daughter of James and Matilda Orlup Finch, her early life was passed in that section. In 1879, she married Andrew Keenholts and the couple made their home in the historical stone house situated on the Bozenkill Valley highway. Two children were born , a son, Stephen Keenholts who died at Los Angles, Cal in 1944; a daughter Ida Keenholts Witter, living in Altamont.
Mr. & Mrs. Keenholts lived in several places, at length returning to the homestead in the Bozenkill Valley where they began their married life.-(This was a second generation Andrew Keenholts).
IV. Neighbors of Lot 797 included the Van Auken family on Lot 799. From the on-line text of "Royal DeWayne Van Aken's Children" ; Levi Van Auken, son of Peter Van Auken and Maria Terpening, was born Nov. 30, 1756 and baptized Dec. 6, 1756. In 1776, they came to Guilderland, NY from Rhine beck, NY with his brother Hendrick and together they took up the Old Van Auken farm on both sides of the Bozenkill Creek and built their house a few feet east of the iron bridge on the south side of the Bozenkill Creek about a mile and a half north of Altamont on the Settles Hill road where he and his wife , Elizabeth Terpenning, are buried about 500ft east of the house in an old orchard and against the west side of an old stone wall fence. Their gravestones have no inscriptions. Levi served in the War of the Revolution as a Second Lieutent in the third Regiment of the Albany County Militia under Col. Philip P. Schuyler and Capt. Jacob Van Aeruam (see NY in the revolution, p.101. He diedc. 1830. He served at the Schoharie Fort as express rider (horseback). Rode from Schoharie to Albany, stopped at the house to warn family during the Brant-Johnson Raid in Schoharie.
On Sept 29th, 1788 Hendrickus Van Auken (brother of Levi) and wife Maria Terpenning had son, Soloman, born Aug 20 baptised at Helderberg Ref Ch. Sponsors were Soloman Van Bunschoten and Margaret Van Auken. On Feb 24th, 1790, Petrus Van Auken and wife Sarah Kip had dau, Cathynje, born Nov 25,1789 baptised at Helderberg Reformed Ch. Sponsors were neighbor Abram Turk and Elizabeth Terpenning. In 1790, Hendrickus Van Aken and wife Maria Terpenning had son Elias, born Jan 7, baptised at Helderberg Ref Ch. The Westfalls of lot #800 were also related to the Terpenning family. Some Westfalls had lived in the Rhinebeck, NY area, as did the Terpennng, Kipp, and Lewis families.
There is no other stone house like it in the Albany hilltowns. I believe this jewel of a house and it's beautiful setting deserve a picture on the Hilltowns website. More information may surface about the beginnings of this house.

Sources:
Van Buren family oral history
On-line sites on families of Terpenning, Kip, Lewis, Van Buren
Altamont Enterprise Archives
Albany County Hall of Records
Guilderland Library
State Library
Altamont Museum
Howell & Tenney's History of Albany & Schenectady Counties"
Interviews with Van Buren family members
Family Files on the Bernehistory.org website
Albany County Clerk's Office
Index of Deeds and Mortages of Albany County
Town of Berne Clerk Records
Old Hellebergh by Arthur B. Gregg (1975)
"Dutch Houses In The Hudson Valley Before 1776",by Helen Reynolds (1928)