Knox celebrates its Bicentennial Quilt
Jump to navigation
Jump to search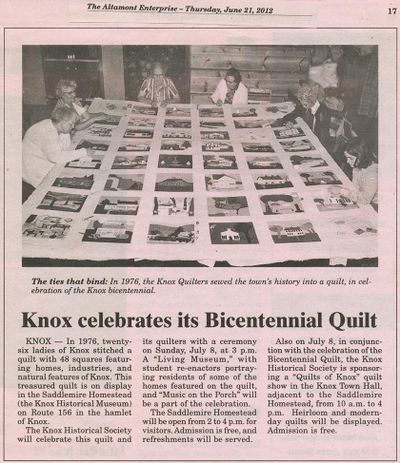 KNOX — In 1976, twenty- six ladies of Knox stitched a quilt with 48 squares featuring homes, industries, and natural features of Knox. This treasured quilt is on display in the Saddlemire Homestead (the Knox Historical Museum) on Route 156 in the hamlet of Knox.
The Knox Historical Society will celebrate this quilt and its quilters with a ceremony on Sunday, July 8, at 3 p.m. A "Living Museum," with student re-enactors portraying residents of some of the homes featured on the quilt, and "Music on the Porch" will be a part of the celebration. The Saddlemire Homestead will be open from 2 to 4 p.m. for visitors. Admission is free, and refreshments will be served.
Also on July 8, in conjunction with the celebration of the Bicentennial Quilt, the Knox Historical Society is sponsoring a "Quilts of Knox" quilt show in the Knox Town Hell, adjacent to the Saddlemire Homestead, from 10 a.m. to 4 p.m. Heirloom and modern- day quilts will be displayed. Admission is free.
The Altamont Enterprise - Thursday June 21, 2012