Kiwanis Club of the Helderbergs Kiwanis Governor's Visit
Jump to navigation
Jump to search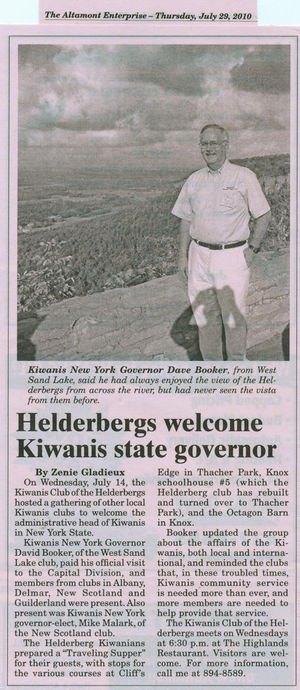 Helderbergs welcome Kiwanis state governor
By Zenie Gladieux
On Wednesday, July 14, (2010) the Kiwanis Club of the Helderbergs hosted a gathering of other local Kiwanis clubs to welcome the administrative head of Kiwanis in New York State.
Kiwanis New York Governor David Booker, of the West Sand Lake club, paid his official visit to the Capital Division, and members from clubs in Albany, Delmar, New Scotland and Guilderland were present. Also present was Kiwanis New York governor-elect, Mike Malark, of the New Scotland club.
The Helderberg Kiwanians prepared a "Traveling Supper" for their guests, with stops for the various courses at Cliff's Edge in Thacher Park, Knox Schoolhouse #5 (which the Helderberg club has rebuilt and turned over to Thacher Park), and the Octagon Barn in Knox.
Booker updated the group about the affairs of the Kiwanis, both local and international, and reminded the clubs that, in these troubled times, Kiwanis community service is needed more than ever, and more members are needed to help provide that service.
The Kiwanis Club of the Helderbergs meets on Wednesdays at 6:30 p.m. at The Highlands Restaurant. Visitors are welcome. For more information, call me at 894-8589.

Altamont Enterprise - July 29, 2010