Kiwanis Club of the Helderbergs In Formative Stage
Jump to navigation
Jump to search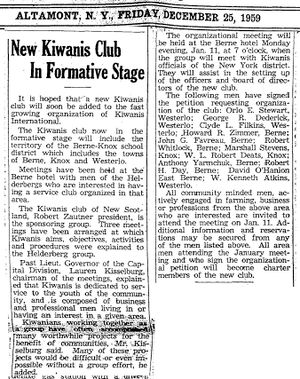 New Kiwanis Club In Formative Stage
It is hoped that a new Kiwanis club will soon be added to the fast growing organization of Kiwanis International.
The Kiwanis club now in the formative stage will include the territory of the Berne-Knox school district which includes the towns of Berne, Knox and Westerlo.
Meetings have been held at the Berne hotel with men of the Helderbergs who are interested in having a service club organized in that area. The Kiwanis club of New Scotland, Robert Zautner president, is the sponsoring group. Three meetings have been arranged at which Kiwanis aims, objectives, activities and procedures were explained to the Helderberg group.
Past Lieut. Governor of the Capital Division, Lauren Kisselburg, chairman of the meetings, explained that Kiwanis is dedicated to service to the youth of the community, and composed of business and professional men living in or having an interest in a given area.
Kiwanians working together as a group have often accomplished many worthwhile projects for the benefit of communities, Mr. Kisselburg said. Many of these projects would be difficult or even impossible without a group effort, he added.
The organizational meeting will be held at the Berne hotel Monday evening, Jan. 11, at 7 o'clock, when the group will meet with Kiwanis officials of the New York district. They will assist in the setting up of the officers and board of directors of the new club.
The following men have signed the petition requesting organization of the club: Orlo E. Stewart, Westerlo; George R. Dederick, Westerlo; Clyde L. Filkins, Westerlo; .Howard R. Zimmer, Berne; John G. Favreau, Berne; Robert Whitlock, Berne; Marshall Stevens, Knox; W. L. Robert Deats, Knox; Anthony Yarmchuk, Berne; Robert H. Day, Berne; David O'Hanlon, East Berne; W. Kenneth Atkins, Westerlo.
All community minded men, actively engaged in farming, business or professions from the above area who are interested are invited to attend the meeting on Jan. 11. Additional information and reservations may be secured from any of the men listed above. All area men attending the January meeting and who sign the organizational petition will become charter members of the new club.
Altamont Enterprise, Altamont, N. Y., Friday, December 25, 1959