Kiwanis Club of the Helderbergs Dr. Sarris
Jump to navigation
Jump to search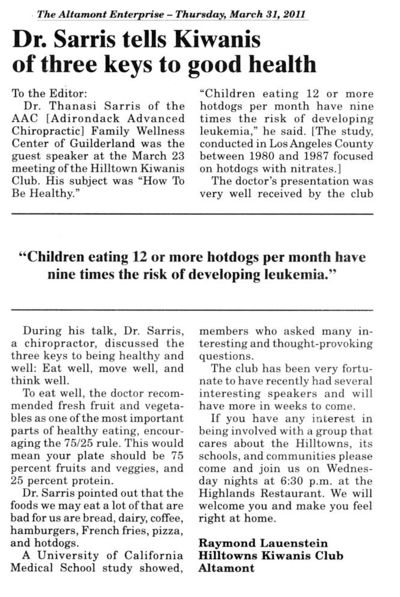 Dr. Sarris tells Kiwanis of three keys to good health
To the Editor:
Dr. Thanasi Sarris of the AAC [Adirondack Advanced Chiropractic] Family Wellness Center of Guilderland was the guest speaker at the March 23 meeting of the Hilltown Kiwanis Club. His subject was "How To Be Healthy."
During his talk, Dr. Sarris, a chiropractor, discussed the three keys to being healthy and well: Eat well, move well, and think well.
To eat well, the doctor recommended fresh fruit and vegetables as one of the most important parts of healthy eating, encouraging the 75/25 rule. This would mean your plate should be 75 percent fruits and veggies, and 25 percent protein.
Dr. Sarris pointed out that the foods we may eat a lot of that are bad for us are bread, dairy, coffee, hamburgers, French fries, pizza, and hotdogs.
A University of California Medical School study showed, "Children eating 12 or more hotdogs per month have nine times the risk of developing leukemia," he said. [The study, conducted in Los Angeles County between 1980 and 1987 focused on hotdogs with nitrates.]
The doctor's presentation was very well received by the club members who asked many interesting and thought-provoking questions.
The club has been very fortunate to have recently had several interesting speakers and will have more in weeks to come.
If you have any interest in being involved with a group that cares about the Hilltowns, its schools, and communities please come and join us on Wednesday nights at 6:30 p.m. at the Highlands Restaurant. We will welcome you and make you feel right at home.
Raymond Lauenstein

Hilltowns Kiwanis Club Altamont
Altamont Enterprise - Thursday, March 31, 2011