Kiwanis Club of the Helderbergs 2011 Maple Festival
Jump to navigation
Jump to search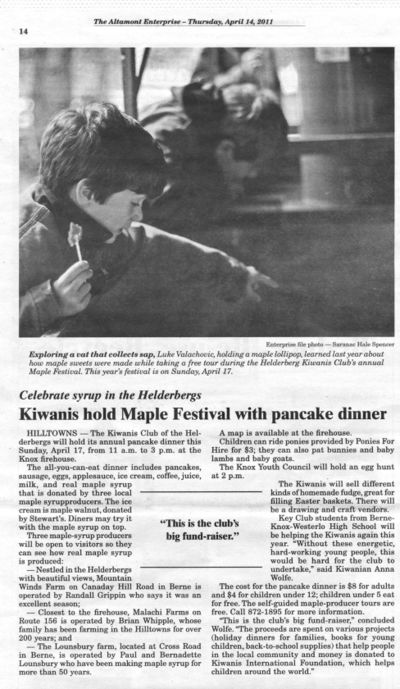 Celebrate syrup in the Helderbergs
Kiwanis hold Maple Festival with pancake dinner
HILLTOWNS — The Kiwanis Club of the Helderbergs will hold its annual pancake dinner this Sunday, April 17, from 11 a.m. to 3 p.m. at the Knox firehouse.
The all-you-can-eat dinner includes pancakes, sausage, eggs, applesauce, ice cream, coffee, juice, milk, and real maple syrup that is donated by three local maple syrup producers. The ice cream is maple walnut, donated by Stewart's. Diners may try it with the maple syrup on top.
Three maple-syrup producers will be open to visitors so they can see how real maple syrup is produced:
— Nestled in the Helderbergs with beautiful views, Mountain Winds Farm on Canaday Hill Road in Berne is operated by Randall Grippin who says it was an excellent season;
— Closest to the firehouse, Malachi Farms on Route 156 is operated by Brian Whipple, whose family has been farming in the Hilltowns for over 200 years; and
— The Lounsbury farm, located at Cross Road in Berne, is operated by Paul and Bernadette Lounsbury who have been making maple syrup more than 50 years.
A map is available at the firehouse.
Children can ride ponies provided by Ponies For Hire for $3; they can also pat bunnies and baby lambs and baby goats.
The Knox Youth Council will hold an egg hunt at 2 p.m.
The Kiwanis will sell different kinds of homemade fudge, great for filling Easter baskets. There will be a drawing and craft vendors.
Key Club students from BerneKnox-Westerlo High School will be helping the Kiwanis again this year. "Without these energetic, hard-working young people, this would be hard for the club to undertake," said Kiwanian Anna Wolfe.
The cost for the pancake dinner is $8 for adults and $4 for children under 12; children under 5 eat for free. The self-guided maple-producer tours are free. Call 872-1895 for more information.
"This is the club's big fund-raiser," concluded Wolfe. "The proceeds are spent on various projects (holiday dinners for families, books for young children, back-to-school supplies) that help people in the local community and money is donated to for Kiwanis International Foundation, which helps children around the world."
Photo Caption: Enterprise file photo — Saranac Hale Spencer
Exploring a vat that collects sap, Luke Valachovic, holding a maple lollipop, learned last year about how maple sweets were made while taking a free tour during the Helderberg Kiwanis Club's annual Maple Festival. This year's festival is on Sunday, April 17. Enterprise file photo — Saranac Hale Spencer
Altamont Enterprise - Thursday, April 14, 2011