Ku Klux Klan
Jump to navigation
Jump to search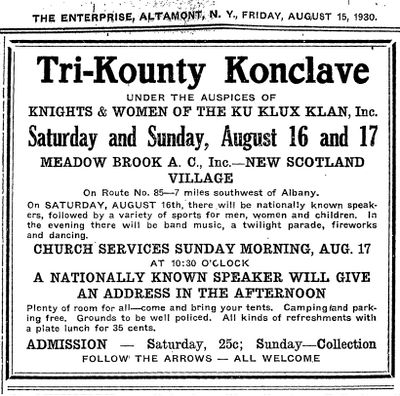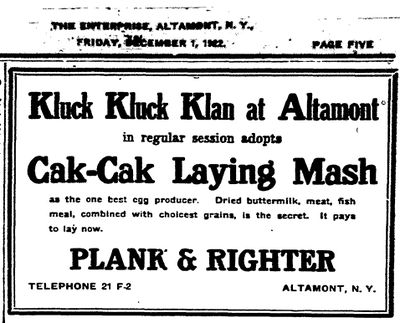 News of the Week
Paragraphic Photographs of the World's Doings Compiled for Busy Readers
The white men of Atlanta. Ga. and the suburban towns have organized a Ku Klux Klan for the purpose of avenging attacks on white women by negroes.
KLAN MEETING HELD WEST OF QUAKER STREET
It would appear that quite a number of Altamont men received invitations to attend a Ku Klux Klan meeting, that too place on the farm of Miss Merle Sheldon west of Quaker Street, Thursday night of last week. From conversations heard during the last few days, but yet we have not met any who attended from this village. The meeting was held and three burning crosses illumined the scene. It is reported that fully 1,500 people came in automobiles from far and near and a very interesting session was held. Just what took place will have to be told by someone who had the good fortune to be present during the meeting. Altamont with the big fair and consequently did not enthuse over the prospect of the Klan meeting.
Delanson
Miss Mabel Gardenier of Albany was the guest of her grandparents, Mr. and Mrs. Merritt M. Zeh, during the New Year vacation.
Merritt M. Zen wishes to thank his many friends of the Ku Klux Klan for the basket of fruit presented to him Christmas eve.
Altamont Village Notes
An open-air meeting under the auspices of the Ku Klux Klan was held in the field south of Crannell's lumber yard on the Voorheesville state road Thursday night. The meeting was well attended. A lecture on the ideals and principles of the Klan was given by an out of town speaker.
New Salem
On Monday of last week a public Klan meeting of interest to all Protestant people, was held at Red Men's hall, in this village. (New Salem). The speaker of the evening was at one time the inmate of a monastery. An extremely large crowd, taxed the capacity of the hall to its utmost.
New Salem
Last week New Salemites were agreeably entertained with a talk by the ex-monk, John Lyons. The meeting was held in Creble's fields on the South Road and was under the auspices of the Ku-Klux-Klan.
KLAN MEETING AT WESTERLO
Dr. H. CL Hartranft of Pennsylvania and J. Forrest Cain, will be the speakers at a Klan meeting to be held at Westerlo, Albany county, on Sunday, August 26th, at 2 p. m. If rainy, the meeting will be held on the following Sunday. The public is invited. A freewill offering will be taken after the meeting to defray expenses. Any balance will be contributed to a student minister at Westerlo.
KLAN MEET AT GALLUPVILLE
There will be a meeting of Ku Klux Klan at the public school grounds in Gallupville, on Friday evening, Sept. 7th. (1928) The meeting will be addressed by J. Forrest Cain and John Lyons. A large attendance is looked for.
KLAN MEETING AT WESTERLO
A Klan meeting will be held at Westerlo, September 9th, at 2 p. m. (rain or shine.) The speakers will be Dr. Hartranft of Pennsylvania and J. Forrest Cain.
KLAN MEETING AT WESTERLO
There will be a meeting of the Ku Klux Klan at Westerlo on Sunday, Sept. 23rd, (1928) at 2 p. m., standard time, rain or shine. Klan meetings held recently at Gallupville and West Township were well attended. They were estimated to have been the largest meetings ever held in this section. Dr. Hartranft, J. Forrest Cain and John Lyons spoke at Gallupville, and John Lyons at West Township. An illustrated lecture at Gallupville was given by Mr. Lyons.
WESTERLO
There will be a meeting of the Ku Klux Klan at Westerlo on Sunday, September 23, (1928) at 2 p.m. standard time. Rain or shine.
A box of burning history: The Indian Ladder KKK
By Ken Bright
Things don't usually get very exciting around an archive. But just occasionally a bull walks into our little china shop. A few months ago a box arrived in our offices on Main Street from a woman in another state. The material in the box had come from the woman's father, who lived in Altamont a good while ago. He had died and the material in the box was just another dusty part of her father's life. Now, as she began purging her own memories the box came back home. The woman's father was the secretary of the Indian Ladder chapter of the Ku Klux Klan.
Inside the box where pamphlets, binders, forms, order blanks, membership cards, meeting minutes, and other paper paraphenalia;, all marked and designed for administrative use within the organization.
Form K-101, for instance, was a recquisition for robes and helmets that included a diagram with measurement instructions. With Form K-114 you could order your own firey cross! either the small No. 1 "for candles" or the deluxe No. 2 "complete with tank." There were manuals and instruction pamphlets, and several copies of the constitution and laws.
Most of these publications had a picture of the torch-carrying rider, hooded and mounted, with his horse rearing triumphantly. It was a little chilling to handle the booklets and papers covered with the expressions and images of American's most outspoken and long lived racist groups.
We had some misgivings about even announcing that we had KKK material on the premises. With all their associations with terror in the night we didn't know what kind of reaction to expect. Even though the group disbanded in 1929, those images and that language are still haunting. But as I began the process of mounting the yellowing peices of paper under glass for display, it seemed to reduce their terror. They became, like all the other historical exhibits, a remnant of another time. A curiosity. A relic.
Just recently we were invited to mount a display of some of our pieces at an ephemera fair in Albany's New Scotland Armory. Ephemera, from the root meaning "lasting only a day", usually refers to items printed for' a specific, short-term purpose; such as a bus ticket, a soapflake box, or a train timetable. We thought our collection of KKK forms qualified and we thought it would be a kind of interesting item. A little splashy.
I set up a little display with the large print, and poster-sized items, including the Klan forms, on table easels and then wandered around the floor of the armory looking at the other exhibitors' booths. From time to time I would saunter back to our little display. People would stop by occasionally. There wasn't a lot of interest, since we weren't selling anything. Folks did take a little longer looking over the forms, though. They seemed to recognize the symbols and that would draw them in.
They'd stand at the table and lean in close, reacting carefully. Nobody spoke about them or asked any questions, they just looked and left.
I don't think I've struck a blow for brotherhood or tolerance or anything like that. The human shortcomings that give rise to organizations like, the KKK will always be with us. But for a moment I had a piece of that shadow under glass, and folks could come by for a peek.
Old-time history comes to life as students peruse documents
By Melissa Hale-Spencer
ALTAMONT — Guilderland students are learning history not through someone else's analysis in a textbook or lecture, but through their own discovery. Their teachers are bringing "artificial artifacts" — that is, copies of old documents and photos of historic objects — into fourth-, seventh-, and eighth grade classrooms, so students can learn hands-on history, piecing out the solutions to questions the way real historians do.
She said the "artifacts" included an early 1900's geography book, local Ku Klux Klan records, a description of a horse carcass rotting on a village street, the diary of a Civil War soldier, and area maps dating back to the 17th century. "The kids are fascinated,"
Gateway to the Altamont Fair
By Melissa Hale-Spencer
As with any historical collection, (Jerry) Oliver's reflects the good and the bad in a community. Among the ephemera are records from the Altamont Ku Klux Klan, most of it from the 1920's, Oliver said. The white supremacist group reached its highest membership in that decade, sweeping post-war Middle America with about 4 million members.