HHA promotes local history and products
Jump to navigation
Jump to search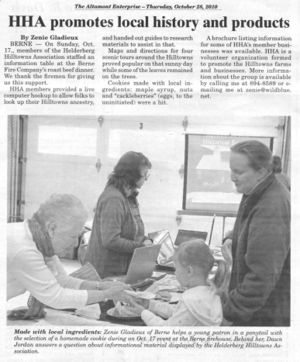 The Altamont Enterprise - Thursday, October 28, 2010
HHA promotes local history and products
By Zenie Gladieux
Berne - On Sunday, Oct. 17, members of the Helderberg Hilltowns Association staffed an information table at the Berne Fire Company's roast beef dinner. We thank the firemen for giving us this support.
HHA members provided a live computer hookup to allow folks to look up their Hilltown ancestry and handed out guides to research materials to assist in that.
Maps and directions for four scenic tours around the Hilltowns proved popular on that sunny day while some of the leaves remained on the trees.
Cookies made with local ingredients: maple syrup, nuts and "cackleberries" (eggs, to the uninitiated) were a hit.
A brochure listing information for some of the HHA's member businesses was available. HHA is a volunteer organization formed to promote the Hilltowns farms and businesses. More information about the group is available by calling me at 894-8589 or e-mailing me at [email protected].
Additional notes: The cookies were baked by Jane McLean. Genealogy handouts and the PowerPoint presentation were created by John Elberfeld. Both Jane and John helped out at the tables during the day.