9th Heavy Artillery
Jump to navigation
Jump to search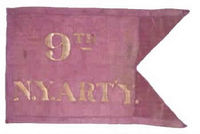 9th Heavy Artillery
Second Auburn Regiment; Cayuga and Wayne County Regiment

Mustered in as 138th regiment of infantry: September 8-9, 1862 . Designated 9th regiment of artillery (heavy): December 19, 1862. Mustered out: July 6, 1865.

During its service the regiment lost by death, killed in action, 5 officers, 109 enlisted men; of wounds received in action, 2 officers, 87 enlisted men; of disease and other causes, 5 officers, 244 enlisted men; total, 13 officers, 440 enlisted men; aggregate, 453; of whom 38 enlisted men died in the hands of the enemy; and it, or portions of it.
Among those killed in action:

John Jost Bogardus of Berne was a 34 year old Private of Company M when he was killed in action on October 19, 1864 at Cedar Creek, VA. He left a widow and two young daughters.

Among those who were wounded were:
Among those disabled

Charles Secor of Knox was a 20 year old Private of Company A when he was discharged for his disability on June 23, 1865 at Jarvis Hospital in Baltimore, MD.