Stewart, LeRoy
Jump to navigation
Jump to search
Birth
LeRoy Stewart was born Saturday March 08, 1902, the son of William Stewart and Georgianna Rendo, and the grandson of Rendo, Frederick (B. 1856). His brother and sister were:
William Stewart of Knox
Estella (Estelle H.) Stewart married George Kinum of Colonie.
Education
Occupation
Marriage & Children
LeRoy Stewart married Lillian Riley (1903 - 1996). Lillian M. Riley was the daughter of Charlotte Riley and William Riley of Schenectady. From the census records, Milton Venderhoof was her unofficial step father. Their children were:
Death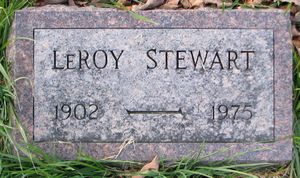 Leroy Stewart died June 16, 1975.
Obituary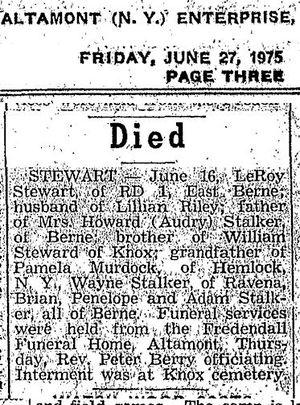 DIED
STEWART - - June 16, LeRoy Stewart, of RD 1, East Berne, husband of Lillian Riley, father of Mrs. Howard (Audry) Stalker, of Berne, brother of William Steward (Stewart) of Knox, grandfather of Pamela Murdock, of Hemlock, N. Y., Wayne Stalker of Ravena, Brian, Penelope and Adam Stalker, all of Berne. Funeral services were held from the Fredendall Funeral Home, Altamont, Thursday, Rev Peter Berry officiating Interment was at Knox Cemetery
Altamont Enterprise - June 27. 1975
Additional Media
Leroy Stewart: Social Security Death Index (SSDI) Death Record
Name: Leroy Stewart
State of Issue: New York
Date of Birth: Saturday March 08, 1902
Date of Death: June 1975
Est. Age at Death: 73 years, 3 months
Last known residence:
City: East Berne
County: Albany
State: New York
ZIP Code: 12059
Latitude: 42.6215
Longitude: -74.0496

KINUM — Colonie, N. Y. Oct. 27, (1958) Estelle H., wife of George Kinum of 11 Waterman Ave., mother of Mrs. Carl Perko, daughter of Mrs. Georgiana (Georgianna) Stewart of Knox, sister of William Stewart of Knox and Roy (LeRoy) Stewart of Thompson's Lake. Funeral service was held Thursday morning at 10:30 from the Bond Funeral Home, Schenectady. Interment at Park View cemetery.
Altamont Enterprise - October 31, 1958
Pvt. Wallace Rendo, who has been spending a short furlough with friends here was a SUnday dinner with Mr. and Mrs. LeRoy Stewart.
Altamont Enterprise - May 14, 1943


Sources
---