Means, Richard Warren
From Helderberg Hilltown Biographies

Birth
Richard Warren Means was born January 16, 1943, the son of Theodore W. Means of Gallupville. He was the grandson of Louise TImmons of New York City. His siblings were:
Louise Means of Gallupville
Susan Means of Gallupville
Education
Military Service
Richard Warren Means was Seaman First Class in the U. S. Navy.
COMMUNITY NOTES
Richard Means son of Mr and Mrs. Theodore Means of Delanson R, D., former residents of Thompson's Lake has joined the U S Navy and is presently stationed at the Great Lakes training station near Chicago.
Altamont Enterprise - September 23, 1960
Occupation
Marriage & Children
Death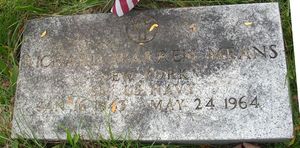 Richard Warren Means died May 24, 1964

Connecticut Death Index, 1949-2001 about Richard W Means[1]
Name: Richard W Means
Death Date: 24 May 1964
Death Place: New London, New London, Connecticut
Age: 21 Years
Birth Date: abt 1943
Marital status: Never Married (Single)
State File #: 09545
Residence : Out-of-State, New York
Gender: Male
Race: White

Obituary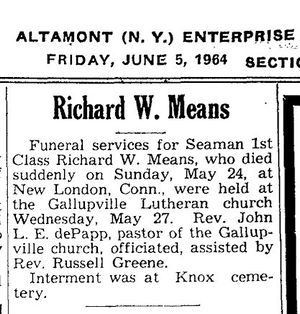 Richard W. Means
Funeral services for Seaman 1st Class Richard W. Means, who died suddenly on Sunday, May 24, (1964) at New London, Conn., were held at the Gallupville Lutheran church Wednesday, May 27. Rev. John L. E. dePapp, pastor of the Gallupville church, officiated, assisted by Rev. Russell Greene. Interment was at Knox cemetery.
Altamont Enterprise - June 5, 1964
MEANS — At New London, Conn., suddenly, May 24, 1964, Seaman First Class Richard W. Means of Gallupville, N.Y., son of Mr, and Mrs. Theodore W. Means; brother of Louise and Susan Means, all of Gallupville; grandson of Mrs. Louise Timmons, New York City.
Funeral service at the Gallupville Evangelical Lutheran Church, 2 o'clock Wednesday afternoon. Friends may call at the Fredendall Funeral Home, Altamont, Tuesday from 2 to 4 and 7 to 9. Interment Knox Cemetery.
The Knickerbocker News - May 25, 1964
Additional Media
Two members took part in the 4-H horse show at the New York State Fair in Syracuse. Nancy Knoll received two blue or excellent awards and one red or good award, and Richard Means, who has" since left for service in the U. i>. Navy, won a blue award.
Altamont Enterprise - September 23, 1960
Sources
↑

www.Ancestry.com
---