Gage, Charles
From Helderberg Hilltown Biographies

Birth
Charles Gage was born in West Berne, NY on August 30, 1928, the son of Harrison and Beulah Clow Gage. His sisters were:
Mrs. Arthur Martin of Schenectady
Mrs. Ernest Hoberg of Schenectady
Mrs. Frank Heigle of Schenectady
Mrs. Ethel McDermott of Berne
Education
He was a lifelong area resident, graduating from Schoharie Central School.
Occupation
Charles was employed by General Electric Co. in the maintenance department for many years until his retirement.
Military
Charles proudly served with the United States Army.
Marriage & Children
Death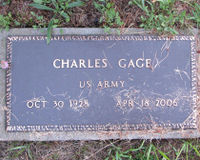 - Charles Gage, 77, of Schenectady, passed away unexpectedly, Tuesday April 18, 2006. He was buried in the Knox Cemetery - Charles Gage US ARMY OCT 30 1928 APR 18 2006
Obituary
Charles Gage was the son of Harrison Gage Harrison Gage Private funeral services were held Saturday for Harrison Gage, 80, of 373 Michigan Ave., Schenectady, who died Mar. 12, in Ellis hospital following a brief illness. A native of the town of Wright, Mr. Gage lived in West Berne until moving to Schenectady three years ago. He had worked for the Albany Castings Co., before his retirement many years ago. Surviving are his widow, Mrs. Buelah Clow Gage; a son, Charles Gage of Schenectady; four daughters, Mrs. Arthur Martin, Mrs. Ernest Hoberg and Mrs. Frank Heigle, all of Schenectady, and Mrs. Ethel McDermott of Berne; nine grandchildren and 12 greatgrandchildren. The Fredendall Funeral Home in Altamont, was in charge of arrangements.
Additional Media
Sources
---