Doty, William
Jump to navigation
Jump to search
Birth
Marriage & Children
Military Service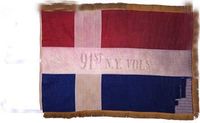 | | |
| --- | --- |
| Residence: | Preston Hollow[1] |
| Place of Birth: | Stephentown, Renss. Co., NY[1] |
| Date of Birth: | 8 March 1838[1] |
| Names of Parents: | Ichabod (Doty) and Sibyl Bvik(?)[1]Sibyl Bliss[2] |
| Marital Status: | Single[1] |
| Occupation: | Farmer[1] |
| Term of Enlistment: | 1 year[1] |
| Bounty Received: | $90.00[1] |
| Enlistment Date: | 1 Sep 1864[3] |
| Enlistment Place: | Albany, New York |
| Enlistment Rank: | Private |
| State Served: | New York |
| Regiment: | 91st Infantry |
| Company: | Company E |
| Died of Disease on: | 8 Mar 1865[1] |
| Place of Death: | US Army General Hospital, Baltimore, MD |
| Place of Burial: | Government Cemetery, Baltimore, MD[1] |
Additional Remarks: Enlisted at the age of 26.[3] " went with 91st to Baltimore performed one days service then taken sick, removed to hospital at Baltimore there he died March 8th 1865 with fever and is burried at Government cemetery at Baltimore."[1]

Born in Stephentown, NY on March 8, 1843, Farmer, Blue eyes, Brown hair, Light complexion, 5' 8-1/2" tall.[2]
Sources Used: Ancestry.com, American Civil War Soldiers; Internet for the name of the hospital; Town and City Registers of Men Who Served in the Civil War
Death
DOTY, WILLIAM.—Age, 26 years. died of spinal meningitis, March 8, 1865, at Camden Street Hospital, Baltimore, Md.[4]
Obituary
Additional Research Notes
This soldier did not appear in the 1860 census for Rensselaerville, nor did his name appear in the 1865 extra information regarding the Deaths of Officers.
Additional Media
went with 91st to Baltimore performed one days service then taken sick, removed to hospital at Baltimore there he died March 8th 1865 with fever and is burried at Government cemetery at Baltimore

Sources