Decker, Jacob
Jump to navigation
Jump to search
Birth
No information has been found that could identify the names of Jacob's parents, where he was born, or where and when he died.
Marriage & Children
Military Service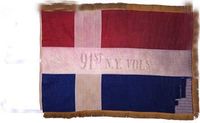 | | |
| --- | --- |
| Residence: | Westerlo[1] |
| Term of Enlistment: | 3 years[1] |
| Enlistment Date: | 19 Nov 1861[2] |
| Enlistment Place: | Albany, New York or Westerlo[1] |
| Enlistment Rank: | Private |
| State Served: | New York |
| Regiment: | 91st Infantry |
| Company: | Company D |
| Wounded in Action on: | 14 June 1863 |
| Wounded at: | Port Hudson, LA |
| Discharged for Disability on: | 4 Mar 1864 [2] |
| Discharged at: | Port Jackson, LA[2] |
Additional Remarks: Enlisted at the age of 40. "Served his term of enlistment and was discharged and returned home. Has since Died"[1]
Sources Used: Ancestry.com, American Civil War Soldiers; Town and City Registers of Men Who Served in the Civil War; Annual Report of the Adjutant General of the State of New York, Regimental Rosters
Death
Obituary
Additional Research Notes
Jacob served with his regiment near Washington, DC until January of 1862 when they left for Key West, Florida, then to Fort Jackson, LA where they served as heavy artillery in July of 1863. It was at this time that Jacob was wounded in action and sent to the Saint Louis Hospital at New Orleans. After remaining there for nearly a year, he was discharged for his injuries and returned home on March 14, 1864
Additional Media
Newspaper Articles
Albany Journal, July 1865
CASUALTIES IN THE NINETY-FIRST REGIMENT. —The following is a list of inmates of the St. Louis Hospital at New Orleans, who were wounded in the storming of Port Hudson: First Lieutenant W. S. Hurwert, Co. C; Sergeant S. Townsend, Co. D; Corporal A. Aumock, Co. D; Corp. M. Scripture, Co. C; Corp. P. H. Garity, Co. H; Privates Jacob Decker, James N. Wands, Co. D; Detor Delong, Co. G; Samuel Sneade, Co. E; Michael Scott, F. Bartholomew, Co. A.

Sources