Create A Biography
From Helderberg Hilltown Biographies

We encourage you to create pages for your Hilltown ancestors. We currently have two templates to choose from including a new Civil War Soldier template. For additional help editing the biography template including adding photographs and documents visit Instructions for Biographies.
Please respect the privacy of living Hilltowners.
Biography Templates
Two templates are included below. The first is for anyone, and the third is a new template for Civil War Soldiers. The Civil War template has a special section for military service date. View the Template Examples to see which you prefer, then click the appropriate Use This Template link to create your page.
Creating Biographies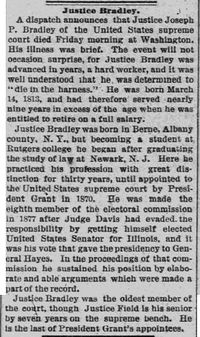 When creating biographies, they should contain the following information:

Birth dates and location
Parents names
Occupations
Marriage date and location
Information on children
Death date and location
Burial location

You are not limited to just this information! Add whatever you know and think should be there. Other things you may choose to include may be:

Military service
Hobbies
Organizations
Education information
Places they resided