Mattice's Lake View Cottage
Jump to navigation
Jump to search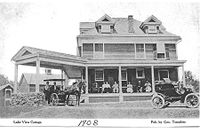 ---
1906 Thompkin's Lakeview Cottage was built in 1906 for George Thompkins (1870 - 1915) on land purchased from Arthur Warner. Tompkins ran the Cottage as a boarding house, taking in people who would come up from Albany or New York City to stay two weeks or even the whole summer.
1914 the cottage was sold to Dick Mattice (1872 - 1929) and his wife Lottie Roney Mattice (1873 - 1946). They had a boat house and a small dance hall partially on a pier where there was a bar that sold drinks, ice cream and candy bars. Dick died as a reslult of injuries suffered in an accident while cutting ice on the lake.
1929 the Lakeview Cottage was owned by the Austin Mattice (1900 - 1958), son of Dick and Lottie Mattice, and his wife Elsie Ecker Mattice (1899 - 1955). It was operated as a boarding house during the summer months. In the event of an overflow of boarders, they were directed to the Warner homes next door.
1943 the property was sold to Matthew and Pearl Schnurr of Albany. They converted it into a restaurant, enlarging the dining room and adding a bar in the front area.
1950 Zwicklebaur's Hofbrau - Karl Zwicklebaur and Hilde bought the property and turned it into Zwicklebaur's, a very popular German-American restaurant by enclosing the the original porch thus adding on the big dining room with a bar.
1976 the property was transferred to Reinhold and Adelheid Scholz and was operated as Scholz Hofbrawu.
owned by John Pleat from Albany.
1996 Reinhold transferred the property to his children, Mandy and Reinhold Jr.
2010 - The Hofbrau Restaurant. There are a couple of apartments in use on the upper floors.