Baptist Church of Rensselaerville
Jump to navigation
Jump to search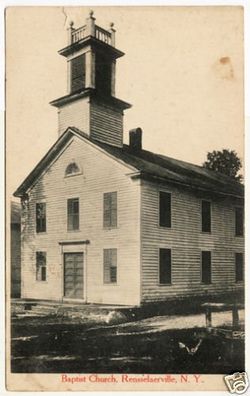 History
WEBMASTER NOTE: THIS PAGE IS NOT YET FINISHED AND IS UNDER CONSTRUCTION.
The Baptist Church of Rensselaerville was constitiuted on August 19, 1796, and was originally a colony let off from the Baptist Church of Preston Hollow and called the "Rensselaerville and Berne Baptist Church" It's first meeting house was called the "Old School Baptist Church" was located in the Town of Berne outside the hamlet in its original town before it was off set. The earliest meetings go back to 1849.
In 1835, land was purchased in the hamlet of Rensselaerville from Franklin Frisbee and his wife, Maria and the new Baptist Church was built in 1836. The "Old School Baptist Church" building was then sold.[1].
Sources