Knox during the War of 1812
Jump to navigation
Jump to search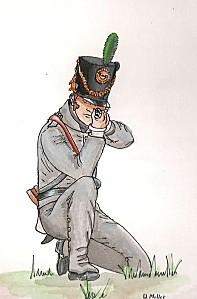 Soldier1812-1 We are trying to create a list of men from Knox who served in the War of 1812. If you know someone who served, please add their name to the list. If you know more about any of them, if would be a fitting tribute to them if you would also create a biography of them. Until then, the only thing we can share with viewers of this page is their name.
Biography
We would like to start a biography for each of these people with the basic data about their military service and anything else you care to add. Click on Instructions for Entering Service Personnel for additional help.
Service Personnel
Because the Town of Knox was not formed from the northern part of Berne until 1822, any veterans from the current Knox area would have been listed as living in Berne. The list below is from hand-written notes from the Knox Historical Society. The list is identical to that found in Tenney and Howell, who got their list from Adjutant General report on 1812 Pensions. Thus an error in the pension list would appear on all other lists.
Note: There is NO record of a Henry Bunzer ever living anywhere, but a Henry Bunzey, the brother of William Bunzey, was living in Knox at the time of the Pension report.