Difference between revisions of "Kiwanis Club of the Helderbergs Member Rebuilds Saw Mill - Rudy Stempel"
Jump to navigation
Jump to search
---
Revision as of 01:19, 26 January 2016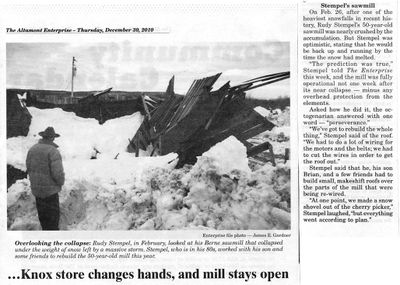 Stempel's sawmill
On Feb. 26, after one of the heaviest snowfalls in recent history, Rudy Stempel's 50-year-old sawmill was nearly crushed by the accumulation. But Stempel was optimistic, stating that he would be back up and running by the time the snow had melted.
"The prediction was true," Stempel told The Enterprise this week, and the mill was fully operational not one week after its near collapse — minus any overhead protection from the elements.
Asked how he did it, the octogenarian answered with one word — "perseverance."
"We've got to rebuild the whole thing," Stempel said of the roof. "We had to do a lot of wiring for the motors and the belts; we had to cut the wires in order to get the roof out."
Stempel said that he, his son Brian, and a few friends had to build small, makeshift roofs over the parts of the mill that were being re-wired.
"At one point, we made a snow shovel out of the cherry picker," Stempel laughed, "but everything went according to plan."
Enterprise file photo — James E. Gardner
Overlooking the collapse: Rudy Stempel, in February, looked at his Berne sawmill that collapsed under the weight of snow left by a massive storm. Stempel, who is in his 80s, worked with his son and some friends to rebuild the 50-year-old mill this year.
Altamont Enterprise - December 30, 2010
Note: Rudy Stempel is a long-time member of the "Kiwanis Club of the Helderbergs.