Elsass Cemetery
Jump to navigation
Jump to search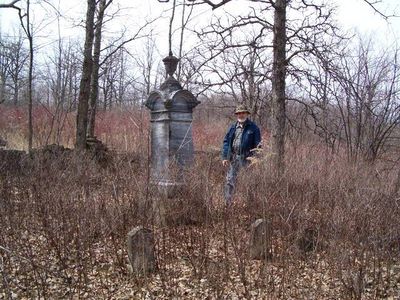 Location
The Elsass Cemetery is in the town of Knox at the corner of Pleasant Valley, Witter Road and Route 156.
Description
There are about a dozen people buried there. The cemetery has been abandoned and is overgrown. A Boy Scout is planning to clean up that cemetery as a Eagle Scout project.
History
The name was a corruption of Alsace.
History
Transcriptions
Catherine Mary Elsass d. 18 Aug 1858 age 25
Elizabeth Elsass d. 10 May 1860 age 45, wife of Michael Elsass
Carrie Elsass d. 13 Dec 1866 age 2, daughter of J.H. & H.E. Elsass
Catharine Elsass d. 5 May 1868 age 2, daughter of J.H. & H.E. Elsass
Frank Elmer Elsass d. 20 Feb 1876 age 1, son of Eli & Lucinda Elsass
Helen E. Elsass d. 6 Feb 1886 age 34, wife of J.H. Elsass
Michael Elsass d. 1 Sep 1891 age 86
Eli Elsass b. 1841, d. 1896 age 55
Jacob H. Elsass b. 17 Oct 1838, d. 13 Apr 1914, age 75
Foster Scrafford b. 1844, d. 1920 age 76 wife of Eli Elsass