134th Infantry
Jump to navigation
Jump to search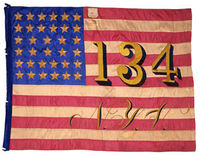 134th Infantry
Mustered in: September 22, 1862. Mustered out: June 10, 1865

The companies were recruited principally at Schenectady and Schoharie Counties.

The regiment left the State on September 25, 1862.

The regiment was heavily engaged at Gettysburg, in the battle of the first day, and in the gallant defense of Cemetery hill on the second day, meeting with a loss of 42 killed, 151 wounded and 59 missing, a total of 252 out of 400 in action.


Among the disabled:

Zadock B. West of Berne was 24 years old and a Private in Company I when he was wounded in the left leg discharged for that wound on December 20, 1863 from a hospital in Albany, NY after serving about 1 year of a 3 year enlistment.