Warner Aaron H.
Jump to navigation
Jump to search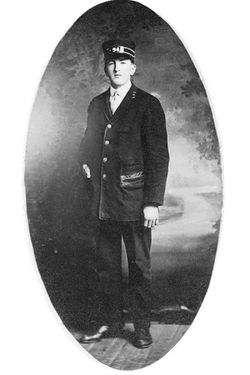 Birth
Aaron H. Warner was born on April 19, 1891, in Huntersland to Hiram J. Warner and Elisabeth Barber.
Education
Occupation
He was a self-employed carpenter and a worker in the General Electric during the war years. Aaron also sold Watkin's Products.
Marriage & Children
On October 6, 1917, Aaron married Dora Mae Deitz a daughter of William B. Deitz and Anna E. Weidman. They had five children:
Death
He died on July 1, 1985, in Feura Bush, N.Y. at 94 years of age. He was buried in Memory's Garden in Colonie, N.Y.
Obituary
AARON H. WARNER - Funeral services were conducted Friday for Aaron H. Warner, 94, of East Berne at the Fredendall Funeral Home in Altamont; burial was in Memory's Garden.

Born in Huntersland April 19, 1891, Aaron Warner was the son of the Hiram J. and Elizabeth Barber Warner, and lived his lifetime in this area. Married October 11, 1917 to Dora Deitz, he lived on Helderberg Trail across from the Bell School area. After some time to Central Bridge and Carlisle, the Warners returned to this home until they moved to their home near Warner's Lake. He was a self-employed carpenter and a worker in the General Electric during the war years.

When his health worsened he went in April to live with his daughter Helen in Feura Bush; Mrs. Warner was already there after suffering a fall before this. He had spent a week in St. Peter's Hospital and passed away at his daughter's home on July 1, (1985).

He was a member of the Hilltowns Senior Citizens and also a member of Berne Lodge 684 F. & A.M. who conducted their service at the funeral home Thursday evening. He was also a 32nd degree Mason with his twin Sons (a unique occurrence) and was a member of the Cyprus Shriners Temple, Albany. He had been a member of Berne Tent 770 K.O.T.M. Officiating at the Friday funeral service was his grand-nephew, the Rev. John Tanner of Plattsburgh.

Survivors include his wife, Dora Deitz Warner, two daughters Mrs. William (Helen) Crosier of Feura Bush and Mrs. Carl (Lillian) Bellinger of Westmere; and twin sons Francis Warner of Bedford, Va. and Frank Warner of Voorheesville. He was a brother of Camilla Pollack of Fonda, and the Stanton Warner, Florence (sic) Rendo, Donovan Warner and Ada Long. He was also survived by nine grandchildren and twelve great-grandchildren: Mrs. Charles (Ann) Hotaling and Scott, Darryl and Dale of Feura Bush; Mrs James (Patricia) Shultes and Dean and Denice of Delmar; Mrs. Wayne (Sandra) Groesbeck and Adam and Faith of Muskegon, Mich.; Richard Crosier and daughters Amanda and Jenna of Feura Bush; Mrs. Dennis (Marcia) Jones and son Shane of Latham; Mrs. Bruce (Sharon) Genhofer of Albany; Brian Warner and Stacy and Stephanie of England; Mrs. William (Debbie) Libby of Upton, MA and Mark Warner of Florence, N.C.

Memorial contributions may be made to the East Berne Volunteer Fire co. East Berne, N.Y. 12059 or Berne Lodge 684 F. & A.M. Berne, N.Y. 12023.

Additional Media
{...}
Sources
---