Schermerhorn, Phillip
Jump to navigation
Jump to search

Birth
Phillip was born in the town of Berne (Knox on document) about October, 1830 the son of Jacob J. Schermerhorn (1803 – ) and Christiana (1802 – 1889). His brother was:
J. Schermerhorn of Albany
Marriage & Children
Military Service
| | |
| --- | --- |
| Enlistment Date: | 7 May 1861 |
| Enlistment Place: | Saratoga, NY |
| Enlistment Rank: | Private |
| State Served: | New York |
| Regiment: | 3rd Infantry |
| Company: | Company F |
| Discharged for disability on: | 16 July 1861 |
| Discharged at: | Washington, DC |
Additional Remarks: Enlisted at the age of 25
Sources Used: Ancestry.com military databases
Death
Philip Schermerhorn died at his home Aug. 27th (1908) at the of age 77 years and 10 months.
Obituary
Philip Schermerhorn died at his home Aug. 27th (1908) at the of age 77 years and 10 months. He had been ill for many months both mentally and physically owing to a stroke of paralysis. Mr. Schermerhorn was born in the town of Berne but moved in this town in his boyhood days and resided here until his death. He was among the first to respond to President Lincoln's call for volunteers and joined the 3d New York, in which be served faithfully and well until be was honorably discharged. He was a quiet good neighbor.
It has been said that his kindness and generosity to the poor was a reproach to professing Christians. Many times has he carried the necessaries of life to the deserving poor, and many who came to his door hungry have gone away satisfied. Never did the worthy poor appeal in vain. At the funeral services the pastor of the M. E. church gave a very appropriate discourse, comparing the enlisted and enrolled soldiers of war to the soldiers of the cross who fought the fight and finished the course.
His funeral was attended by the G. A. R. some of whom acted as bearers. His daughter, Mrs. Brust, and family desire to thank the friends and neighbor and especially the G. A. R. for their kindness and sympathy in their bereavement. The deceased is survived by one brother J. Schermerborn of Albany. Interment is Prospect Hill Cemetery.
Altamont Enterprise - September 4, 1908
Additional Research Notes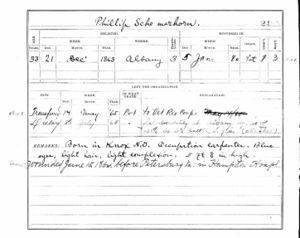 New York, Civil War Muster Roll Abstracts, 1861-1900 about Phillip Schemerhorn
Name: Phillip Schemerhorn
Age: 33
Birth Year: abt 1831
Birth Place: Knox, New York
Enlistment Year: 1863
Enlistment Location: Albany, New York
Muster Year: 1864
Separation Details: Transferred
Separation Date: 14 May 1865

Civil War Record Summaries
3rd NY Infantry
SCHEMERHORN , PHILLIP — Age, 33 years. Enlisted, December 21,1863, at Albany; mustered in as private, Co. F, January 5, 1864, to serve three years; wounded, June 15, 1864, before Petersburg, Va.; transferred to Veteran Reserve Corps, May 14, 1865.
1890 Veterans Schedules for Guilderland
1890 Veterans Schedules about Philip A Schermerhorn
Veteran's Name: Philip A Schermerhorn
Home in 1890 (Township, County, State): Guilderland, Albany, New York
Year enlisted: 1863
Year discharged: 1865
Rank: Private
(Service: Schermerhorn, Philip A. - Enlisted, 1863; Discharged 1865, Served 2 years - Post-office Address - Guilderland, Albany, Co., NY)
Census Records
1850 United States Federal Census about Philip Schemeshon[1]


Name: Philip Schemeshon
[Philip Schermerhorn]
Age: 20
Birth Year: abt 1830
Birthplace: New York
Home in 1850: Guilderland, Albany, New York
Gender: Male
Family Number: 331
Household Members:
Name Age
Jacob J Schemeshon 47
Christian Schemeshon 48
Lyman Schemeshon 23
Philip Schemeshon 20
John G Schemeshon 16
James A B Schemeshon 13
Cynthia A Schemeshon 18


1860 United States Federal Census about Philip Schermerhorn


Name: Philip Schermerhorn
Age in 1860: 30
Birth Year: abt 1830
Home in 1860: Guilderland, Albany, New York
Gender: Male
Post Office: Guilderland
Household Members:
Name Age
Jacob J Schermerhorn 56
Christiann Schermerhorn 57
Hiram Schermerhorn 32
Philip Schermerhorn 30
Ann Schermerhorn 26
Jas Schermerhorn 23
Hiram Schoonmaker 14


1870 United States Federal Census about Philip Schermerhorn[1]


Name: Philip Schermerhorn
Age in 1870: 37
Birth Year: abt 1833
Birthplace: New York
Home in 1870: Guilderland, Albany, New York
Race: White
Gender: Male
Post Office: Guilderland
Value of real estate: View image
Household Members:
Name Age
Philip Schermerhorn 37
Sarah Schermerhorn 32
Charles Main


1900 United States Federal Census about Philip Schemerhorn[1]


Name: Philip Schemerhorn
[Philip Schermerhorn]
Age: 67
Birth Date: Oct 1832
Birthplace: New York
Home in 1900: Guilderland, Albany, New York
[Albany]
Race: White
Gender: Male
Relation to Head of House: Head
Marital Status: Widowed
Father's Birthplace: New York
Mother's Birthplace: New York
Occupation: View on Image
Neighbors: View others on page
Household Members:
Name Age
Philip Schemerhorn 67

Additional Media
Sources