Rasche, Richard
From Helderberg Hilltown Biographies
Birth
Richard Rasche was born Thursday, March 21, 1957.
Education
Occupation
Marriage & Children
Richard married Marcia before he was twenty.
Death
Richard Rasche died April 27, 1977. He is buried in the Cornell Family Burying Ground (sometimes called the Lilac Hill Cemetery) in Knox, NY. Richard and Marcia Rasche share a gravestone with a single death date.
Marcia Rasche, d. 27 Apr 1977 : Richard and Marcia Rasche Died April 27, 1977
Richard Rasche, d. 27 Apr 1977
Obituary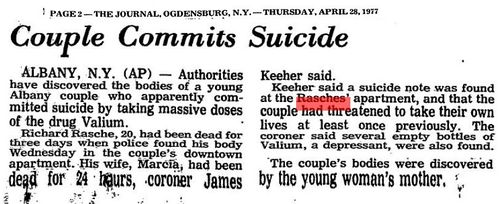 Couple Commits Suicide
ALBANY, N. Y. (AP) - Authorities have discovered the bodies of a young Albany couple who apparently committed suicide by taking massive does of the drug Valium
Richard Rasche, 20, had been dead for three days when police found his body Wednesday in the couple's downtown apartment. His wife, Marcia, had been dead for 24 hours, coroner James Keeher said.
Keeher said a suicide not was found at the Rasche's apartment, and that the couple had threatened to take their own lives at leat once previously. The coroner said several empty bottles of Valium, a depressant, were also found. The couple's bodies were discovered by the young woman's mother.
The Journal, Ogdensburg, N. Y. - Thursday, April 28, 1977
Additional Media
Richard Rasche: Social Security Death Index (SSDI) Death Record

Name: Richard Rasche
State of Issue: New York
Date of Birth: Thursday March 21, 1957
Date of Death: April 1977
Est. Age at Death: 20 years
Location of Last Benefit Paid:
City: Albany
County: Albany
State: New York
ZIP Code:

Sources
---