Peter Turner
Jump to navigation
Jump to search
PETER TURNER 1764-1839
Birth and Family
Peter Turner was christened on May 24, 1764 at Pott Shrigley Chapelry in Cheshire, England. His parents names were Reginald Turner and Susan Higgenbothom, who were married January 30, 1763 in Prestbury, Cheshire, England. His siblings were Mary, Joseph, George and John.
First Wife and Children
He married his first wife on December 14, 1784, when he was 20 years old, at Titherington, Cheshire, England. Her name was Martha Orme. The couple had nine children- Aaron, Susannah, Ann, Mary, Elizabeth, George, Martha, Peter and Bridget.
Second Wife and Children
Peter married his second wife, Sarah Lawton, May 1819, when he was 55 years old, at Morely Parish in Wilmslow, Cheshire, England. Sarah's mother's name was Anna Humphrey and her father's name was John Lawton. Their children's names were Sarah, Samuel, John, William, Anna (Hannah) Phebe, Catherine and Susannah.
Peter and Sarah had seven children-Catherine, John, Reginald, William Lawton, Bertha, Richard and Arabella. Reginald was born and died in England. William Lawton and Bertha were born on the old farm in England at Wilmslow, called Hole Farm. Catherine was born in Cold Harbor, England. John was born at Cordon House in England. Richard and Arabella were born on the farm on West Mountain, Berne Township, NY.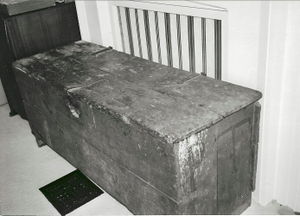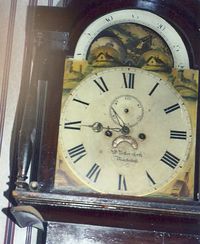 Immigration
Since economic conditions were quite poor in England in the early 1800's, Peter decided to emigrate to America to better his situation. He and Sarah together with their four surviving children immigrated to America in 1827. Traveling with them were Peter and Mary, children by his first wife, Martha Orme, and James Wood, Mary's husband. It took them 11 weeks to cross the Atlantic Ocean in a small sailing vessel. They landed at Perth Amboy, NJ, where they remained a few weeks. Then they sailed up the Hudson River to Catskill, NY and from there to Rensselaerville, NY, where they stayed awhile before moving to a farm on West Mountain, (lot 444) Berne Township, Albany County, NY, April 9, 1827. There their two other children, Arabella and Richard were born there.
When the Turners came to America they brought their possessions in a large wooden chest. In it, among other items, were the works for a grandfather clock made in Macclesfield, Eng. The clock and chest inscribed with the letters P. T. for Peter Turner, are still in family possession.
West Mountain Farming
The soil was very poor on that farm. It was difficult to make a living off of it. Peter farmed it until his death on January 15th 1839, having been in America only 12 years. He died of a lung problem possibly pneumonia. He was buried in the Turner Burial Ground on West Mountain. Sarah died May 18, 1857 and was buried there also.
Most of the farms on West Mountain were abandoned in future years and became over run with brush and trees. Partridge Run State Forest has taken over the land now. The only thing remaining is the Turner Burial Ground. It had been on George Turner's farm near Bradt Hollow road.
Over the years the cemetery became overgrown with weeds and was not visible from the road. Alice Turner Francis, great granddaughter of Peter, knew of the approximate area to look for it. Later her son, Jay C. Francis and his son Jay T. searched for it and found it. They cleared the brush out so it could be seen from the road. It is being restored by members of Berne Historical Group.
Descendants
The two children of Peter Turner's by Martha Orme settled in Central New York in Tioga County located west of Binghamtom, NY. (Peter & Mary).
Later George, Peter's brother, and his family settled nearby on Bradt Hollow Road together with John Milner, George's son-in-law, and his family. Samuel Lawton, brother of Sarah, and his family also immigrated and lived nearby in Rensselaerville, NY.
All of their children married. Catherine m. Warren Nelson-lived in Cold Spring, NY, John m. Eliza Norton-lived in Preston Hollow, Bertha m. Edwin Benjamin-lived in Livingstonville, NY, William m. Catharine Kniskern, daughter of Jacob Kniskern and Catharine Haverly,-lived on West Mountain and later Knox, Richard m. Sarah Kniskern, sister of Catharine-lived in Berne and later Knox, Arabella m. Almond Becker and lived in Berne. Many of these children taught in one-room schools at various times.
Most of this information was gathered by Alice M. Turner Francis, great grandaughter of Peter, and passed on to her daughter, Ruth. Some of the information was gleaned from family letters. Other information was gotten from IGI International Genealogical Index.