Rafferty, Peter
Jump to navigation
Jump to search
Birth
Marriage & Children
Military Service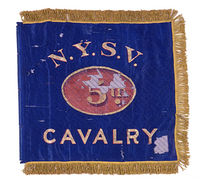 | | |
| --- | --- |
| Residence: | Rensselaerville |
| Enlistment Date: | 18 Oct 1861 |
| Enlistment Place: | Oak Hill, New York |
| Enlistment Rank: | Private |
| State Served: | New York |
| Regiment: | 5th Cavalry |
| Company: | Company L |
| Promotion Date: | Not Stated |
| Promotion Rank: | Full Comm Sergeant |
| Captured on: | 9 Jul 1863 |
| Captured at: | Hagerstown, MD |
| Imprisoned at: | Andersonville, GA |
| Died of Disease on: | 26 Jun 1864 |
| Place of Death: | Andersonville, GA |
Additional Remarks: An Irish immigrant who enlisted at the age of 28
Sources Used: Ancestry.com,American Civil War Soldiers,U.S. Civil War Soldier Records and Profiles and Andersonville Prisoners of War; Annual Report of the Adjutant General of the State of New York, Regimental Rosters.
Death
Obituary
Additional Research Notes
An exhaustive search for any trace of this soldier or his family revealed nothing. He was not on the 1850, 1860, or 1865 census for any town in this area, including Greene County where he enlisted. How his name came to appear on this list is a mystery because nowhere is there an indication that he lived in Rensselaerville.
Additional Media

Sources