Lounsbury, Nathan B. (b. 1833)
Jump to navigation
Jump to search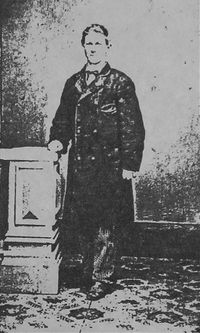 Birth
Nathan was born in May 1833[1], in Berne to Daniel D. Lounsbury and his wife, Elizabeth.
Life
A lifelong farmer, early in life Nathan lived in not only Berne, but also Rensselaerville and Westerlo before emigrating to Pawnee, Pawenee County, K.S. between 1870 and 1880,[2]
Marriage & Children
He married his wife Anna S. _____, circa 1858, prior to moving out west. They had one child:
Lillian Lounsbury (B. Circa 1861 in New York State) She married James H. Cunningham.[2]
Death
Nathan died sometime between 1900 and 1920 in Kansas. At the time of his death his residence was in the Town of Grant in Pawnee County.[2]
Additional Media
Sources
---