Kniskern, John Calvin
Jump to navigation
Jump to search
Birth
John Calvin Kniskern was born on November 1, 1835 in the Town of Knox and baptized May 15, 1836 at Beaverdam Reformed Church. He was the son of Jacob Kniskern and Catherine E. Haverly.
Marriage & Children
Married, first, Angeline Esther Decker on March 24, 1864. Angeline was born on March 1, 1845 in South Berne, the daughter of Michael Decker and Elizabeth Bovie. (Angeline died on December 13, 1869 in Town of Berne.)
Children:
Married, second, Aurelia Bateholts on May 8, 1872.
Children:
Robert Kniskern, b. abt September 1874 d. August 1958
Nellie Kniskern, b. abt April 1880 d. January 1924.
Occupation and Life
John lived with parents Jacob and Katherine in 1850 Town of Knox. He was 14 and his siblings were Catherine 23, William 21, Sarah 17, Albin 12, Harrison 10, George 8, Esther 5, Charlotte 3 and Jerome (Jacob?) 5 months. In 1860 Town of Knox, John was 24 and a carpenter, and living with his parents and siblings Alban 22, Harrison 20, George 18, Hester 15, Charlotte O. 15, Jacob 10, and one Elizabeth Wiedman 82. In 1870, John had a farm with 90 improved acres (of 110 total) with 5000 real estate value and 1400 personal estate value, in the Town of Berne. He was living alone. By this time, his first wife Angeline had died the year earlier, and John's daughter Hattie 4 was living with John's parents. By 1875, John was remarried and living with his second wife Aurelia 27 and children Hattie 9 and son Robert 9 months, in Berne. In 1880 Berne, John was a farmer, living with Aurelia, Hattie 14, Robert 5, and unnamed infant two months (most likely Nellie).
In 1889, John hosted the wedding of his daughter Hattie. "The marriage of Mr. Charles Deitz of Albany, and Miss Hattie Kniskern of West Berne, occurred at the residence of the bride's father on Wednesday evening, October 9th. The ceremony was performed by Rev. Mr. Wurts. The bridal party included the immediate relatives of the bride and groom. Mr. and Mrs. Deitz will reside in Albany, where Mr. Deitz is engaged in business." (Altamont Enterprise, October 12, 1889). By 1892, John and Aurelia had two children left at home, Robert 18 and Nellie 12, in the Town of Berne, and the same, in 1900 Berne.
About 1905/1906, John swapped homesteads with his son Robert; Robert moved into John's farm in Bradt Hollow and John moved into Robert's house.
Death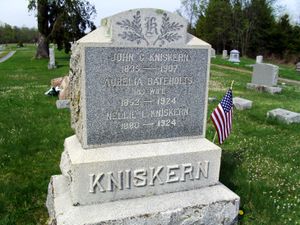 John Calvin Kniskern died on April 14, 1907 in Berne. He is buried at Woodlawn Cemetery in Berne. His wife Aurelia died on July 12, 1927.
Additional Media
Sources
---